Yurts & Other Glamping Options
The YURTS (what's a yurt?) have plush, comfortable beds with linens, cozy comforters and colorful quilts. The 'full ocean view yurts' have king sized beds, the partial ocean views offer queen beds.
There is a small table & set of chairs, reading lights & plenty of hooks for hanging your gear. There is a sink vanity with hot & cold running water in each yurt with bath & hand towels provided. Help the earth & nix the plastic water bottles-our tap water is 100% pure, right from our own mountain source, we provide some compostable cups next to the sink. The yurts have generous redwood view decks with Adirondack chairs.
Yurters walk 2 – 3 minutes to restroom and shower facilities at the lodge. Pack a flashlight and warm jammies or sweats for those late night trips!
The campsites (see campsites here) are "bring & pack in your own…everything". They all have incredible views…especially the campsite that includes exclusive use of the "human nest" – perched in the trees overlooking the Pacific!
The One of a Kind Autonomous Tent (see Autonomous Tent) Grand one-of-a–kind tent resembling the shape of a giant cocoon. Secluded on the edge of the resort with your own private deck and outdoor fire pit, you'll experience some of the greatest sunsets in Big Sur.
The tent provides over 500 sq ft of indoor living space, a king size bed, luxurious cotton linens and comforter. Gas fireplace and leather lounging chairs. It has an en suite bathroom including a claw foot shower and flushable composting toilet. The luminous resilient fabric stretched across the sturdy metal ribs glows at night and provides natural indoor lighting during the day. Powered by it's own dedicated solar array, you'll experience true 'off grid' living in a luxurious and private, 'perched on the edge' location.
*All our shelter options have strict occupancy limits. Please honor our policies and do not exceed the number of allowable guests in each unit.
 We strictly enforce this policy in order to maintain our peaceful ambience.
Reservations are charged fully at the time the reservation is made.
---
Peak season: Rates listed below are for Peak Season (Sunday – Thursday) from March to October. For Friday/Saturday night stays please add 20% to the posted rate. There is always a two night minimum stay required during this time of year. (click the links above to check availability or make a reservation)
Off season: November to February there is a two night minimum on weekends & holidays. For mid-week stays a one night option is available, but you need to call Reservations directly to book (our online reservation system only allows bookings for 2 night stays).
Weekend Yurt Rates (Fri & Sat) Add 10% to posted rates.
Children over 6 years of age only please.
Sorry no dogs permitted in yurts or campsites.
Your stay includes use of pool, hot tub, hot/cold showers, self- serve breakfast buffet with scrambled eggs, waffles, homemade granola, organic yogurt, fruit preserves, coffee, tea and juice. Due to our remote location, we connect with the internet via satellite, which is free to the guests, although at times, depending on the load and weather conditions the transmission speed is similar to 'dial up'.
We require an advance deposit of your entire stay. Reservations must be made by credit card and will be charged fully at the time the reservation is made.
---
Autonomous Tent
$495 for two guests
Campsites
$95 per night
Nest
$150 per night
Full ocean view yurts
With romantic gas-burning fireplaces
One Queen Bed (two guest max. occupancy)
Yurts #7, 8, 9, 10, 15 & 16
$299 for two guests
2 additional guests (in Yurt 7 only) $30 per person
Two Queen Beds
Yurt #13
$347 for two guests
2 additional guests (on futon bed) add $30 each person
This is a very large, spacious yurt with expansive ocean views!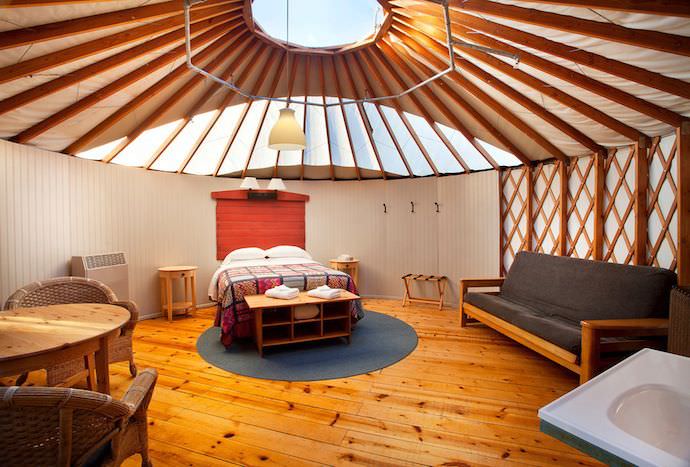 ---
Partial ocean view yurts
One Queen Bed (two guest max. occupancy)
Yurts #2, 4, 6, 11, 12 & 14
$275 for two guests
ADA accessible with convenient access to restrooms and showers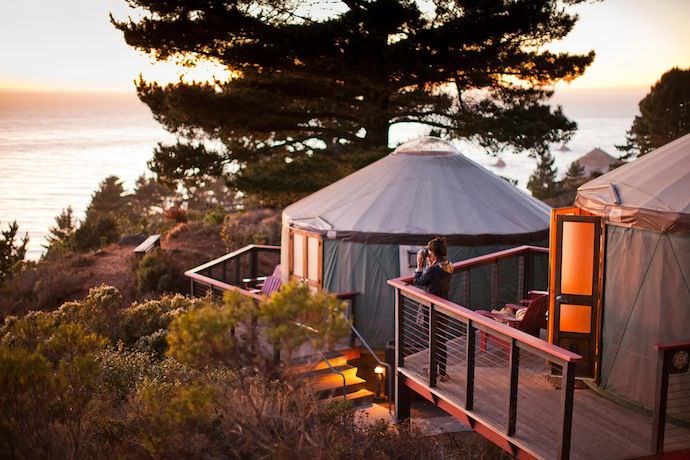 ---
Mountain view yurts
Two Queen Bed
Yurt #1
$295 for two guests
$325 for three guest
$355 for four guests
2 additional guests (on futon bed) add $30 each person
Very large yurt
One Queen Bed
Yurts #3 & 5
$263 for two guests
2 additional guests (in Yurt 3 only) add $30 each person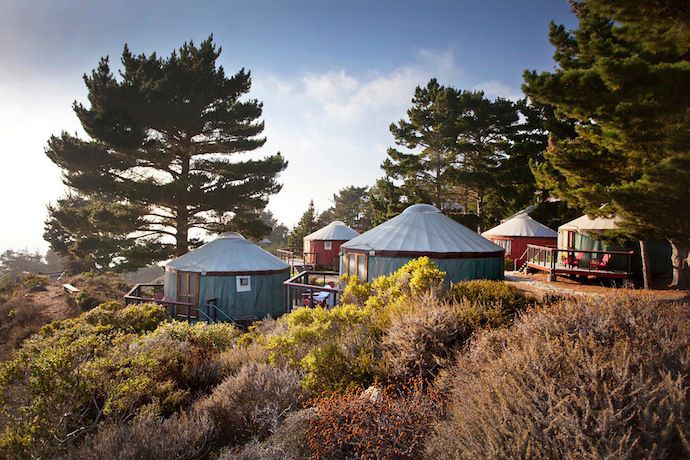 Cancellation policy
Cancellations and changes must be made at least 7 days in advance of your arrival date and are subject to a $35 processing fee. No refunds or changes will be allowed with less than 7 days notice, regardless of weather conditions. (because we are a reservation/destination based resort)
Check-in: 3 pm (if arriving later than 9 pm please call the front desk at 805 927-2390 or 877-424-4787 to make special arrangements)
Check-out: 11 am
•All yurts are non-smoking
•Sorry no pets
•There is a $200 immediate charge for evidence of cigarette or incense smoke or pet hair.
•No lifeguard on duty at pool
•Casual dinners are served nightly in the lodge. No BYOB in lodge restaurant.