Eco Adventures
Tour # 1: Big Sur Hike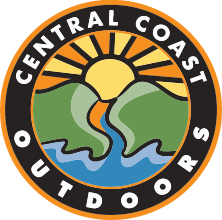 Hosted by Central Coast Outdoors
Itinerary: 
Get ready for a classic Big Sur adventure – exploring misty redwood filled canyons, waterfalls, rocky beaches and several intriguing historic sites, all in the span of one day! On this private guided tour, your guide will drive you between trailheads, leaving you free to admire the stunning views of the coast and watch for a glimpse of the majestic and rare California condor or even whales. At Julia Pfeiffer-Burns State Park you will take several short hikes; visiting a secluded rocky cove, several historic structures and a waterfall plunging to the sands below. At Limekiln State Park, delightful trails meander among redwoods to historic lime kilns. An optional side trip along a trail with stream crossings takes you to a spectacular 100' foot waterfall. Amongst these wonders your knowledgeable and enthusiastic guide will relate stories behind the scenes and lay out a gourmet picnic lunch in the shade by a cascading creek. This a great trip for adult groups as well as families!
Distance/Difficulty/Terrain: 4-5 Miles. Moderately easy – except for one slightly steeper descent and a climb, each approx 1/4 mile (each way).
Climate/Weather: Temperate year round. Temperatures may range from the 50's to 80's – sometimes all in the same day! In the summer there is often fog and in the winter we may encounter rain. Local weather can be accessed at Weather.com.
Recommended Gear List:
Hiking Boots/Shoes
Lightweight long hiking pants (rather than shorts)
Lightweight jacket
Waterproof/breathable jacket during rainy season
Meeting place/Time: Treebones Resort Lodge Departure 9:00 AM daily. Minimum 2 People Reservations must be made in advance
Tour duration: 6 hours including drive time and lunch is included.
Price: (Two guest minimum)
Parties of 2 = $220 per person

Parties of 3 = $190 per person

Parties of 4 = $170 per person

Parties of 5-9 = $155 per person
Includes transportation, water, snacks and gourmet picnic lunch Call: 805-528-1080 to reserve in advance. Click here for more info: www.centralcoastoutdoors.com
---
Tour #2: Ocean Kayaking
Hosted by "Sea For Yourself" Kayak Outfitters
Itinerary: Enjoy sea kayaking at the southern end of the 60 mile stretch of the Monterey Bay National Marine Sanctuary, the nation's largest protected marine area. The tour takes place in the breath-taking natural harbor of San Simeon Cove, 15 miles south of Treebones. After a brief instructional lesson  you and your guide will paddle the pristine waters as the abundant wildlife enchant you. As you float through their playground you will have opportunities to view wildlife such as sea otters, harbor seals, sea lions, whales, dolphins and much more! Guide Todd and his team grew up on the Central Coast and take great pride in sharing their love of the ocean.
Distance/Difficulty/Terrain: Paddlers will drive 40 minutes south on Hwy #1 from Treebones to the William Randolph Hearst State Memorial Park (a.k.a. 'The Cove') The Cove is located in San Simeon directly below Hearst Castle and only 6 miles north of the quaint tourist town of Cambria, and  4 miles from the Elephant Seal viewing area at Piedras Blancas. This is an instructional tour for novice and intermediate paddlers. Knowledgeable, fun and friendly guides take pride in introducing basic kayak skills to newcomers or sharing expert techniques with those who have paddled before. Once in the water you will discover natural treasures in a safe and exciting fashion.
Climate/Weather: All tours are subject to cancellation if weather is not conducive to a safe trip. Please give 'Sea for Yourself' a call for current swell and weather conditions.
BRING: Sack lunch recommended; can be ordered in advance at Treebones.
Recommended gear list:
Wear a bathing suit and please bring the following:
Sunscreen
Hat
Footwear (thongs/sandals, booties, rock socks, or old tennis shoes)
Towel
Warm change of clothes
Disposable camera
Bottled water
If you have your own wetsuit and booties feel free to bring them.
Meeting place/Time: Guests need to check in at Treebones Front desk by 9:15 AM prior to heading down to San Simeon. At that time, Treebones front desk host will inform guests if there has been any cancellations due to weather. Guests will meet kayak guides at 10am at the touring and rental center at W.R. Hearst Memorial State Beach on the lower parking lot. Duration of the tour is approximately 2-3 hours.
Price: $50.00 per person including kayaks, wet suits, back rests, paddles and personal flotation devices. Call: 800-717-5225 or Cubby @ 805 927-5401 to reserve in advance. Click here for more info: www.kayakcambria.com