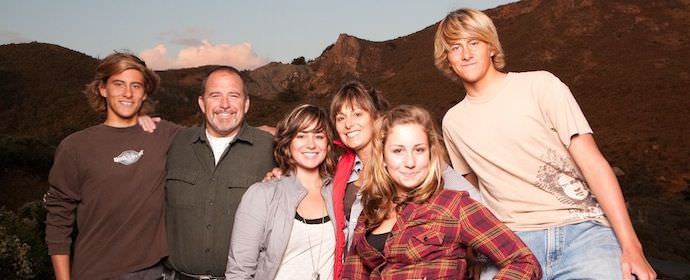 "Grounded in community & innovation, Treebones is a bold & courageous
expression of many hands creating inspiration & renewal for all who discover us"
"Our Story"
Dreams have a way of creating their own destiny.
In our case, we never could have imagined where our dream would take us…
On our honeymoon in 1983, we drove the coast from Canada to Los Angeles. The only portion we couldn't drive was Big Sur. There was a massive slide that year and Highway 1 was closed most of the year. This served to only amplify the allure of this special part of the world. Afterwards, though we settled and worked in Los Angeles, the Central Coast became our favorite weekend getaway. We hiked, camped and explored all along the coast, falling deeply in love with its remote, natural and rugged grandeur. We soon began to dream of buying acreage on the coast – for the future, when our work in LA was done. On one exploratory trip we found this 10.7 acre parcel known as "Treebones" by the Big Sur locals. Except for the lower flat area, where a 1960's lumber mill had been, the site had never been built on. It was completely covered in thick, native chaparral. That year was 1986. We discovered Monterey's "Big Sur Land Use Plan" was being revised and this very site would be rezoned "Visitor Serving Commercial". Although we hadn't set out to be 'hoteliers' we could not deny that a divine turn of events placed a special opportunity in our laps and so our dream changed.
We spent the next decade imagining what Treebones might become. We had four children: Megan, Michael, Lucas and Camille and they grew up dreaming with us. We wanted to create a unique lodging experience that perched lightly on the land. Yurts were just one of many shelter options we explored. They fit with the land – round just made sense. After all, most indigenous people successfully lived in round structures. Igloos, Teepees, Wigwams, Wickiups as well as the rudimentary dome-like shelters of the local Esalen and Salinian Indians all have "round' in common.
The permitting process was a very difficult long five year ordeal that followed – but worthwhile endeavors aren't usually easy.
Construction commenced in 2002, and, as we had promised, accomplished with local Big Sur talent. Our kids, as well as many other extended family members and friends, all worked on the project over the busy next two years.
Treebones opened its doors in November of 2004 and enjoyed immediate favorable media attention beyond what we could have imagined. We are privileged to live on site with our now grown children – as well as 20 plus employees; forming a special and unique live/work experience. In various and many ways we all contribute time, talent and treasure to the wonderful, though fragile, community of Big Sur that we're proud to call home.
Having had the amazing opportunity of watching our dream become a reality, we continue to count our blessings daily as we welcome all those who choose to include Treebones in their Big Sur experience.
Treebones Top 10 Values:
1. We are a community of coastal dwellers that love Big Sur – like the indigenous Indians & settlers that went before us we treasure the land, sea & animals and care for them to the best of our abilities.
2. We all came from various places & spaces and together we create a live+work culture that is fun, generous & adventurous.
3. We prove that multigenerational groups can work well together.
4. We like to make friends & we take the opportunity to make a difference in the overnight experience of our guests. We get excited when guests leave happy & refreshed.
5. We enjoy quirky humor, good times & sharing with the community around us.
6. We believe in doing business in a professional & orderly way – everyday.
7. We aspire to live and work in truth & honesty.
8. We value innovation & initiative and embrace change and personal growth.
9. We are unpretentious & do not ask our guests to "put on airs" either.
10. We keep it simple.