Yurt Buzzin'
A few of the kind words we have received over the years at Treebones Resort
I fell asleep to the sound of the waves and I woke up to the songs of the birds. I lay in bed for a few minutes trying to decipher them. I wished I could see them from the skylight, wondering in my sleepy state if it would help me understand them better. It did not, of course, and so I got out of bed and walked on to the deck to breathe in the fresh mountain air and look out, past the spring flowers, to the peaceful ocean. It was only 6 A.M. but already the perfect morning.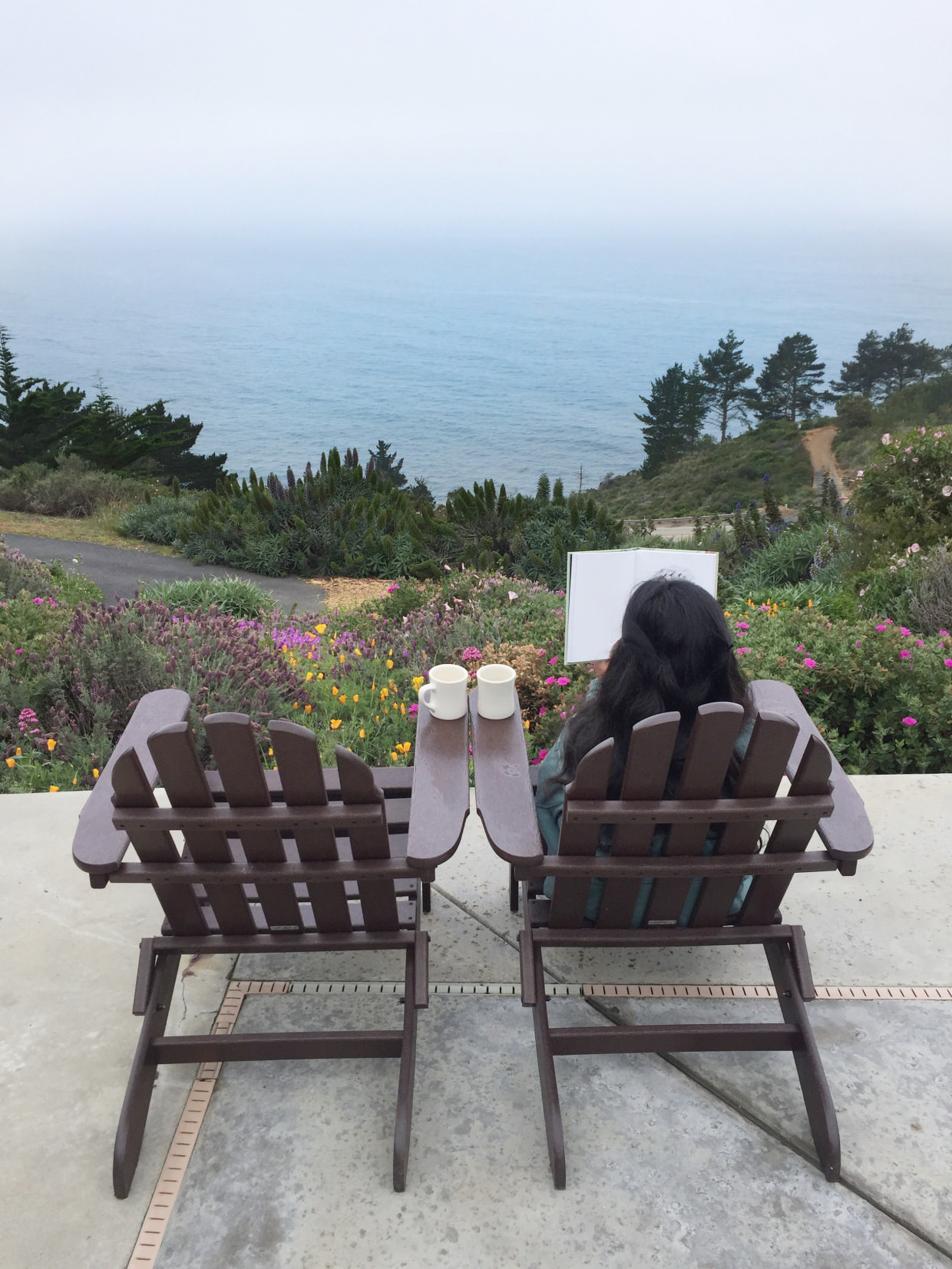 Perfect…is literally the perfect word to describe Big Sur. Steep cliffs rise very close to the ocean, creating a scenic paradise of two of my favorite forms of nature. It is quiet and peaceful, and with the recent closure of parts of Highway 1 (here is the latest disaster to hit Big Sur 
 ), devoid of tourists. It is a place to breathe a little deeper and talk a little softer. It is a place to slow down.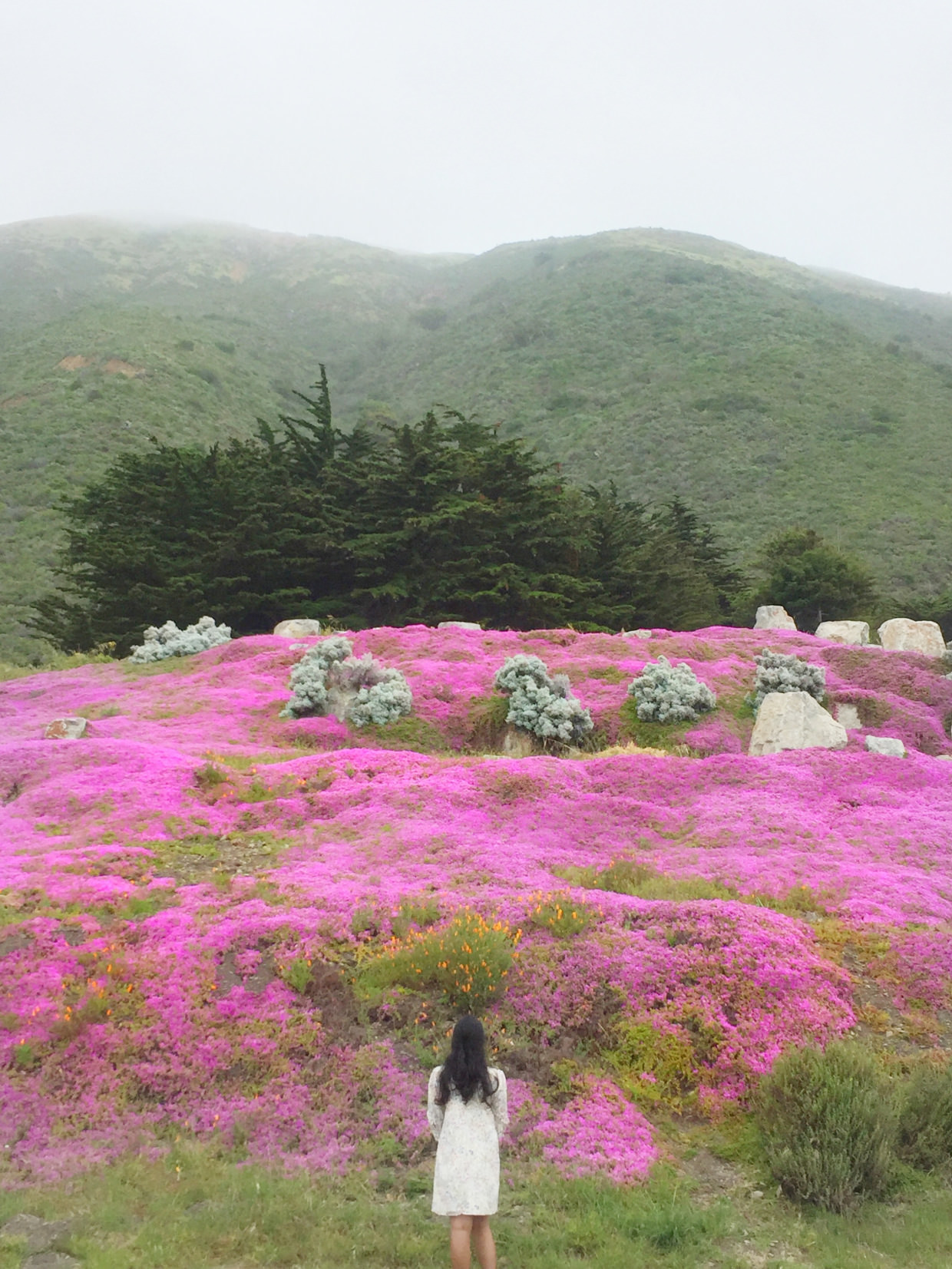 We drove up to Big Sur from San Diego (took a break at this cute little "tree house" on the way up!) for an extended weekend. Unfortunately, the Highway 1 incidents happened after we planned our trip, so we could not see ALL of Big Sur, and had to skip out on a lot of things we had planned (such as a meal at Nepenthe and McWay Falls). However, even the darkest cloud (and believe me there were plenty of clouds when we were at Big Sur) has a silver lining, right? Our silver lining was that we got to drive on the beautiful Nacimiento – Fergusson Highway, a road we would not have ordinarily ventured on. It feels like it is cut through the mountains, and every curve provides a breathtaking opportunity for some amazing views. Oh, and the magic turn? That's when you see the tumultuous Pacific Ocean laid out beneath you, and realize that you are now entering – Big Sur.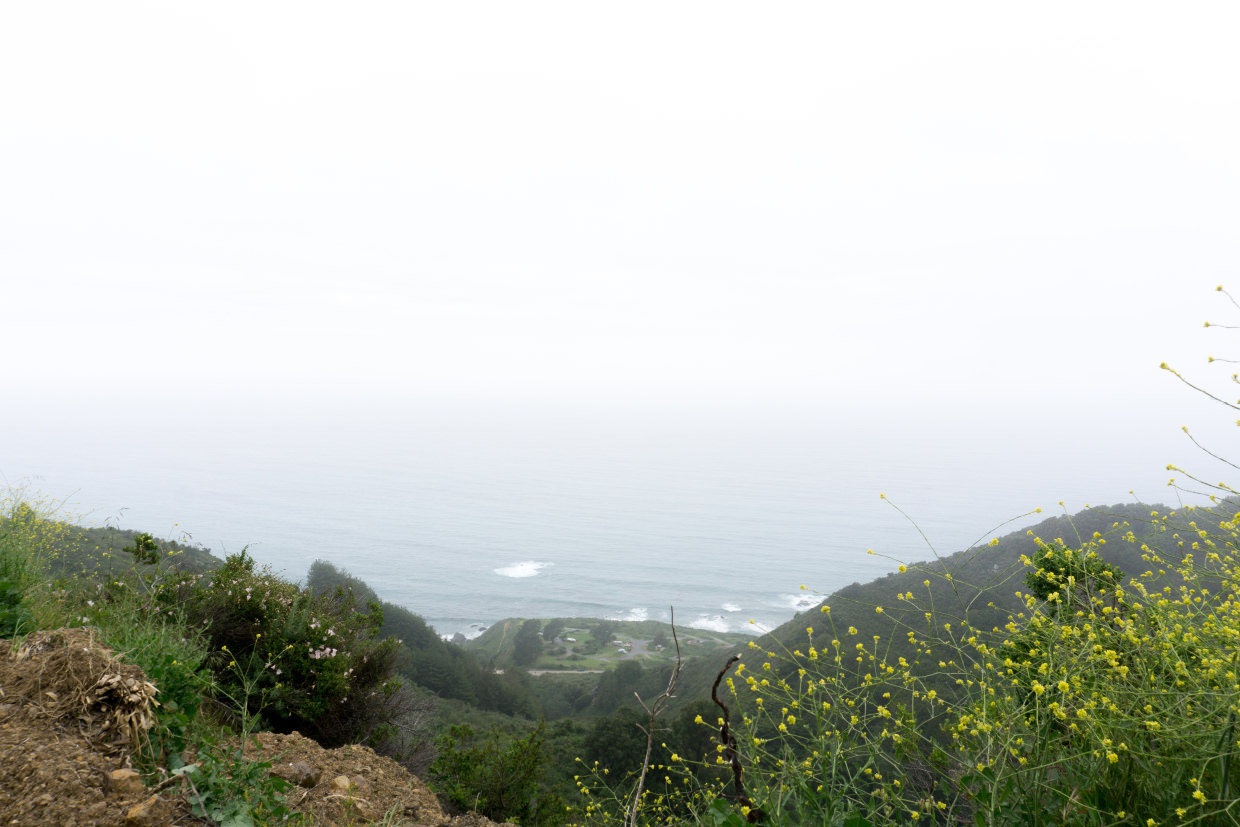 Camping is probably the best way to experience Big Sur. And also the cheapest, since campsites are $35 in some of the state parks. However, let's face it, camping might not be for everyone. Given a choice, I would pay a little extra for a clean, flushable toilet. If you are like me, then Big Sur has a "glamping" option! Glamping = glamorous camping, and in 2017, it can get very glamorous indeed. Treebones Resort in Big Sur is the perfect dose of glamorous – quiet, in tune with nature, but with actual (really comfortable!) beds inside the yurts, physical bathrooms with showers, a pool and hot tub and even a sushi bar!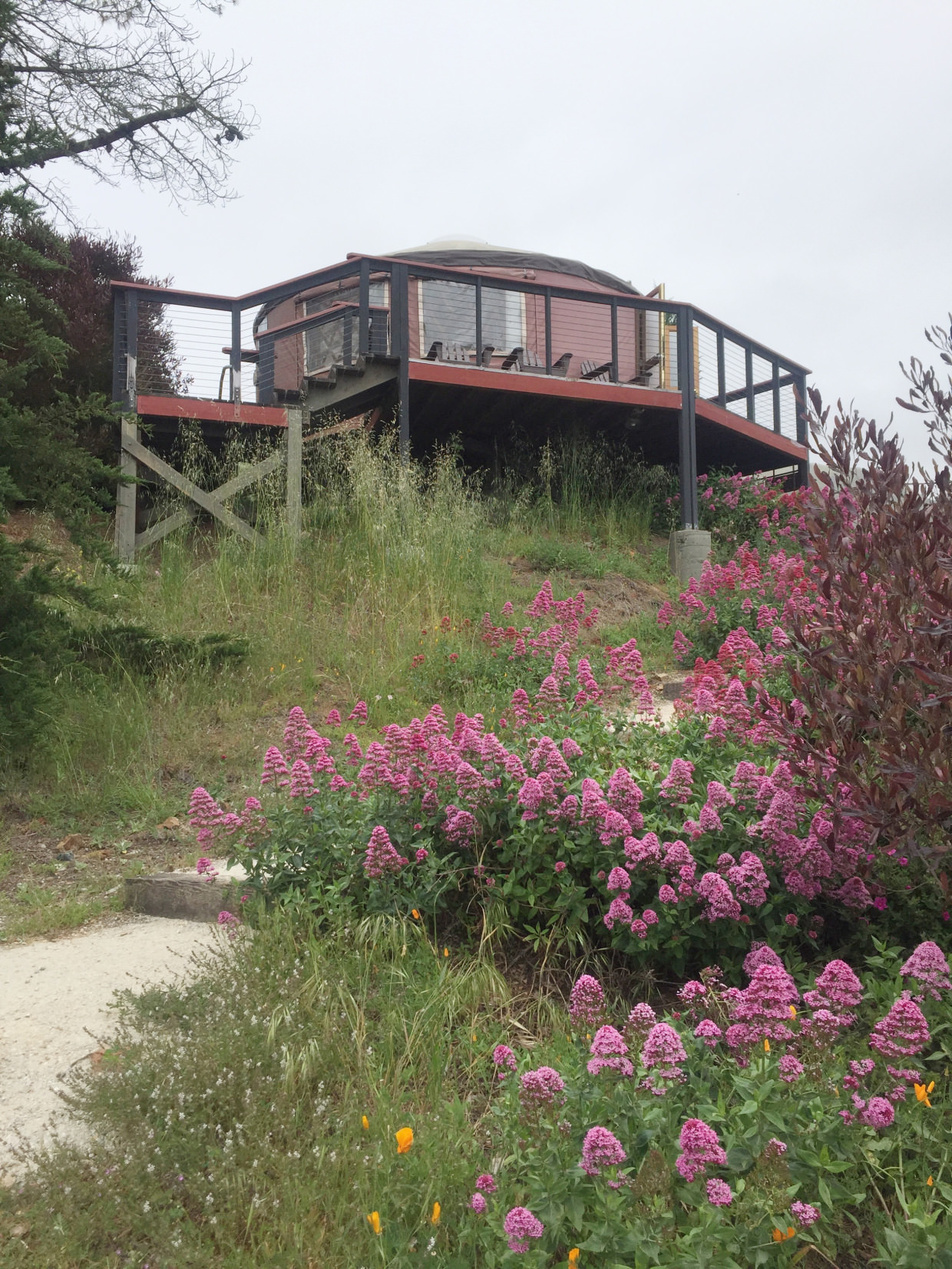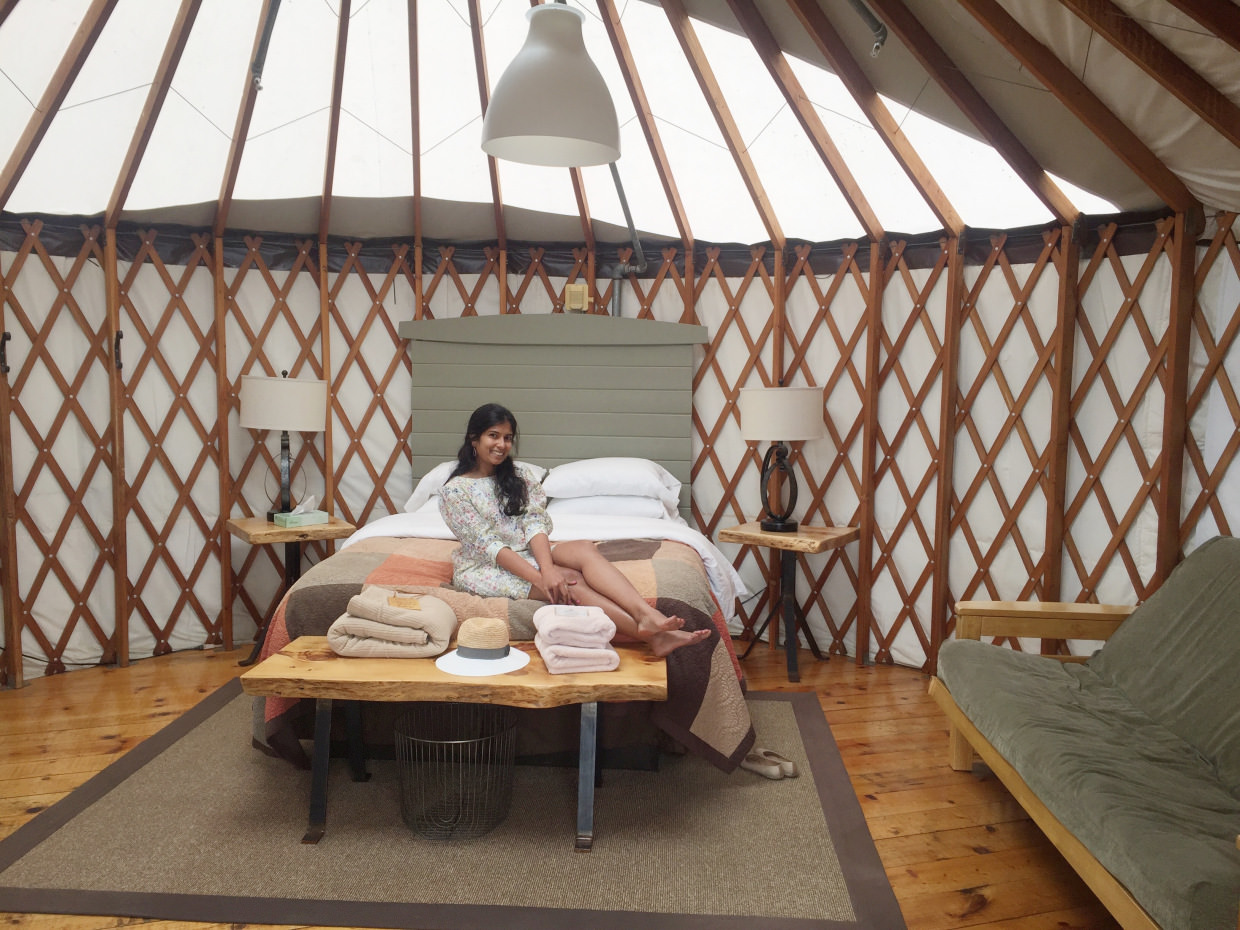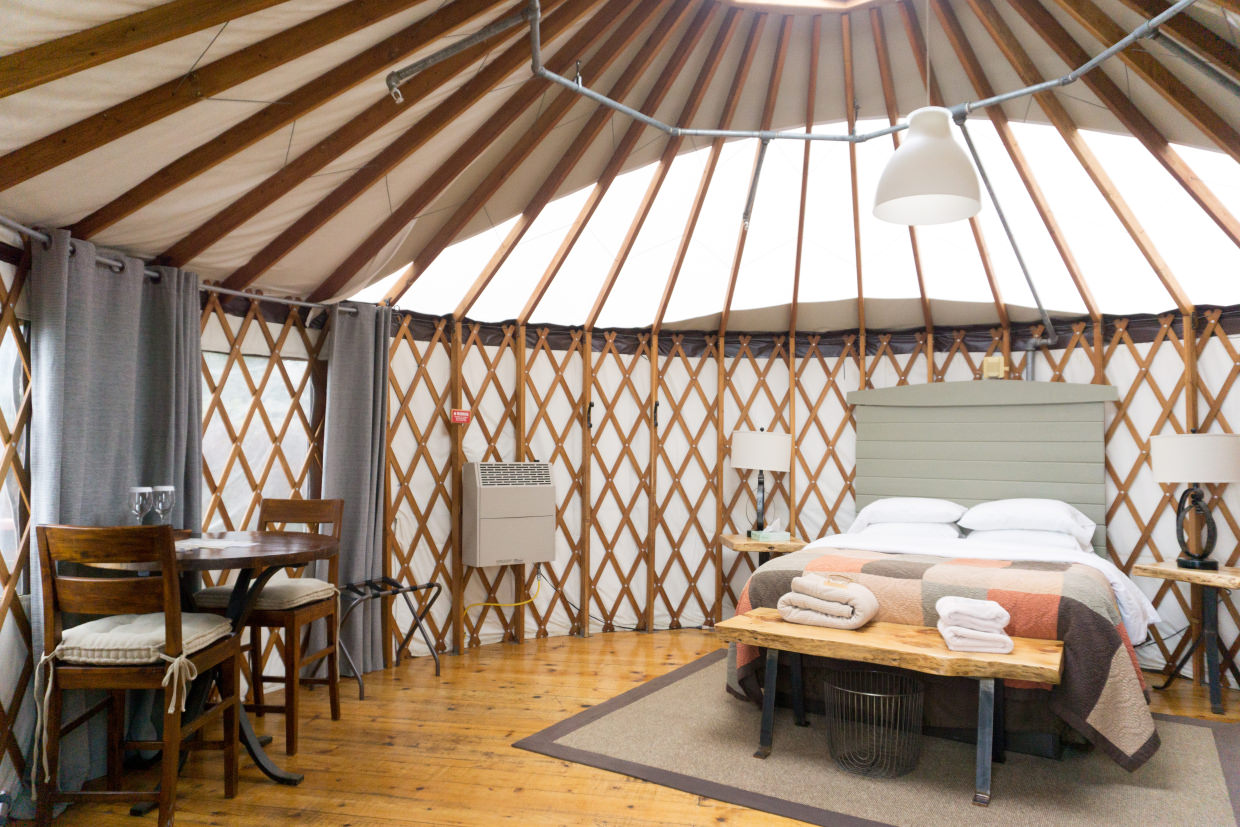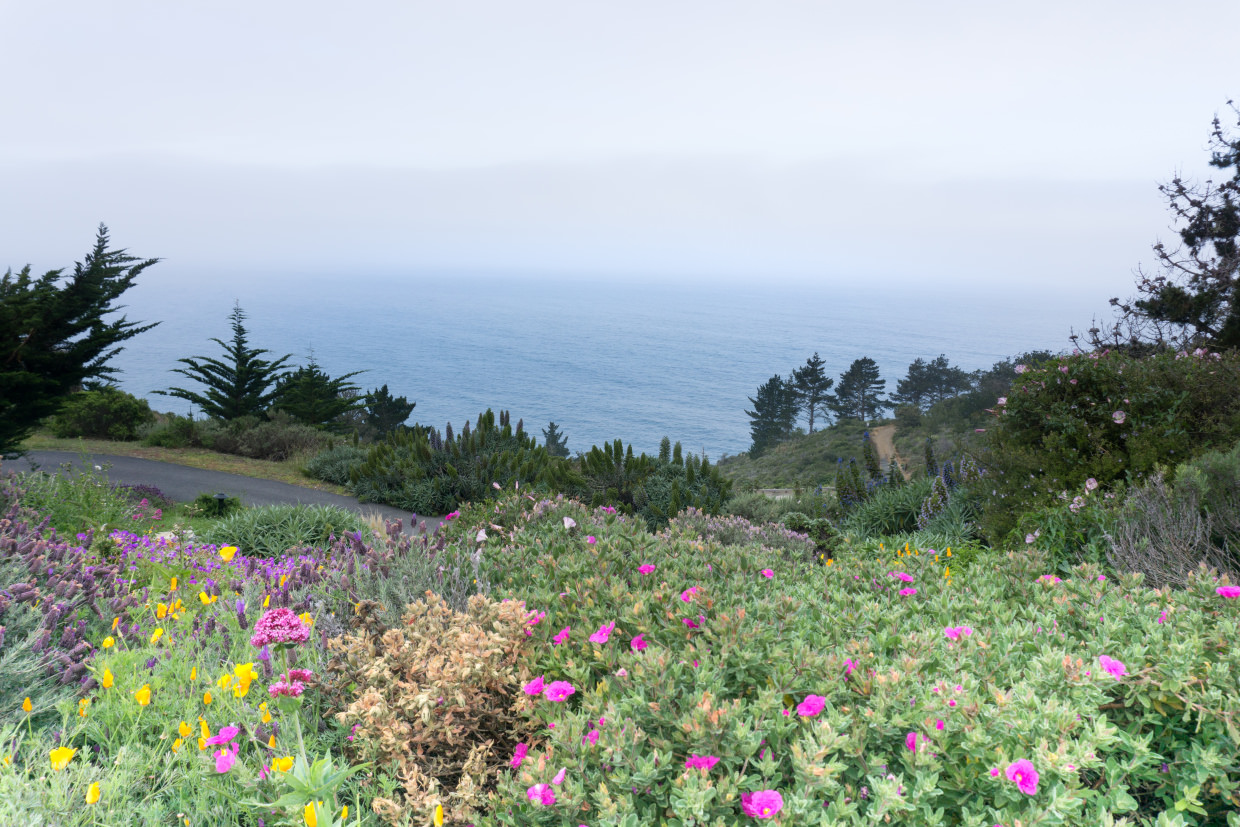 Soon after we settled into our yurt, we started getting hungry – yes looking at wonderful vistas requires energy too. This was the perfect time, because the Sushi Bar opens at 4:30 pm (I recommend you line up from 4:15 because they only seat 10 at a time). They served us some of the best sushi we have ever had! We trusted the chef completely and it was so worth it! It's amazing to watch the chef prepare your food fresh in front of you, using the herbs grown in the garden, picked fresh just before dinner! We aren't really adventurous eaters, so it was a big deal for us to put ourselves in the Chef's hands. I'm so happy that we decided to be adventurous for once! I even liked the Uni.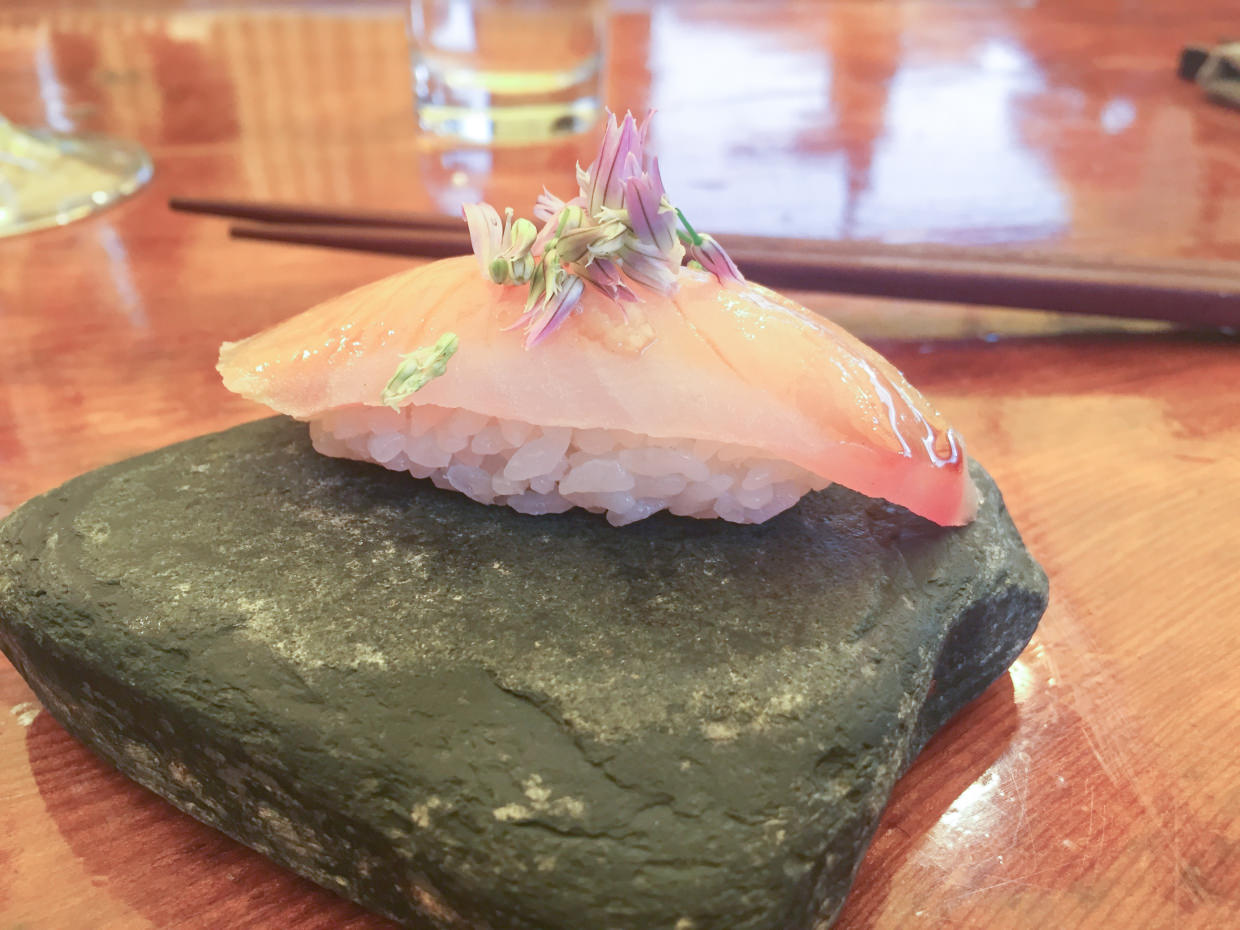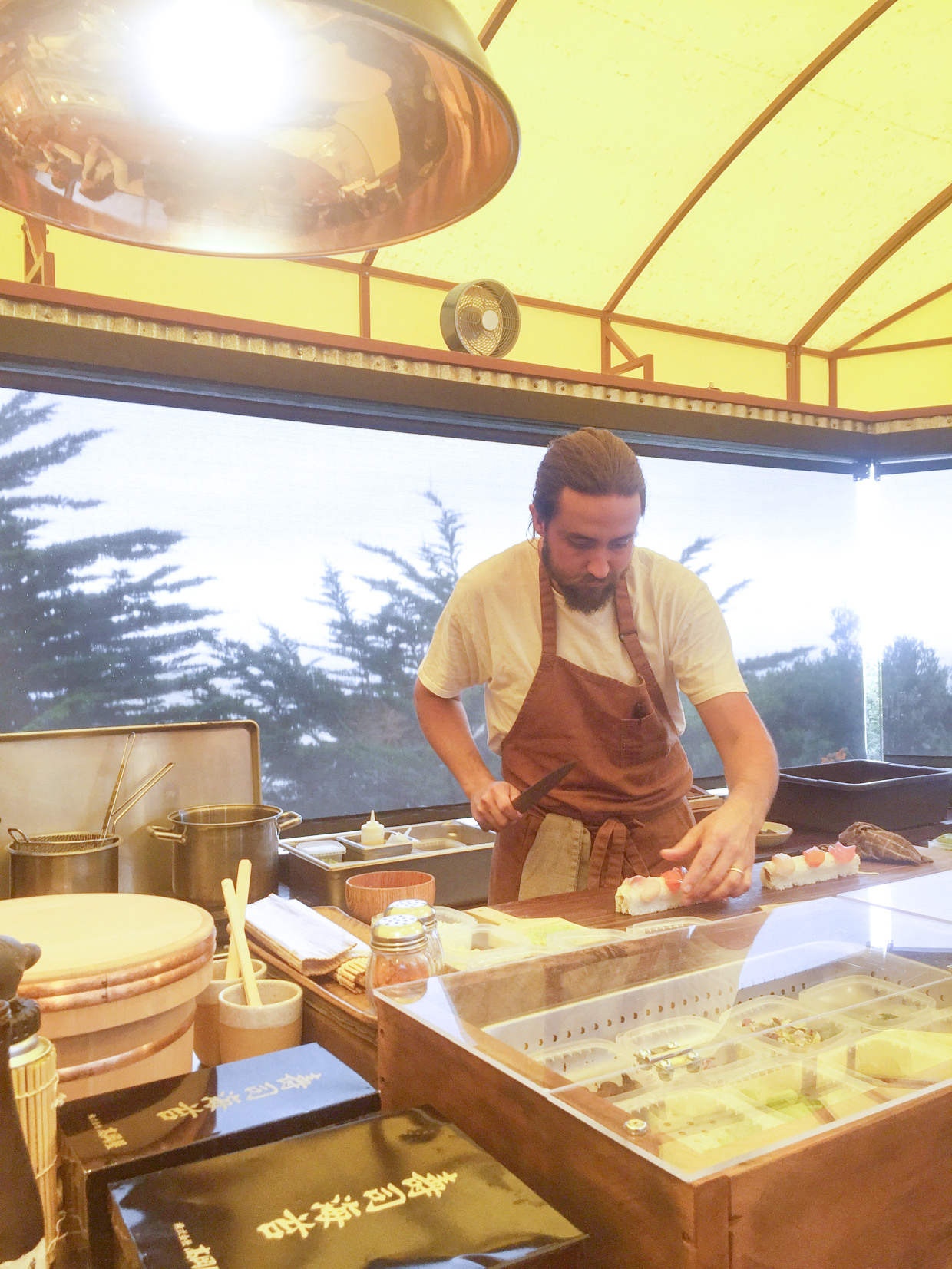 We also loved talking to the chef and his sous chef about life in Big Sur and what it is like with the road closures. All this considered, the residents actually seem happier, because they can enjoy the breathtaking beauty in peace, and avoid the truckloads of tourist busses normally pulling up on Highway 1. Of course, we were enjoying this benefit ourselves, but before I could be truly happy, I needed to know that the residents were ok.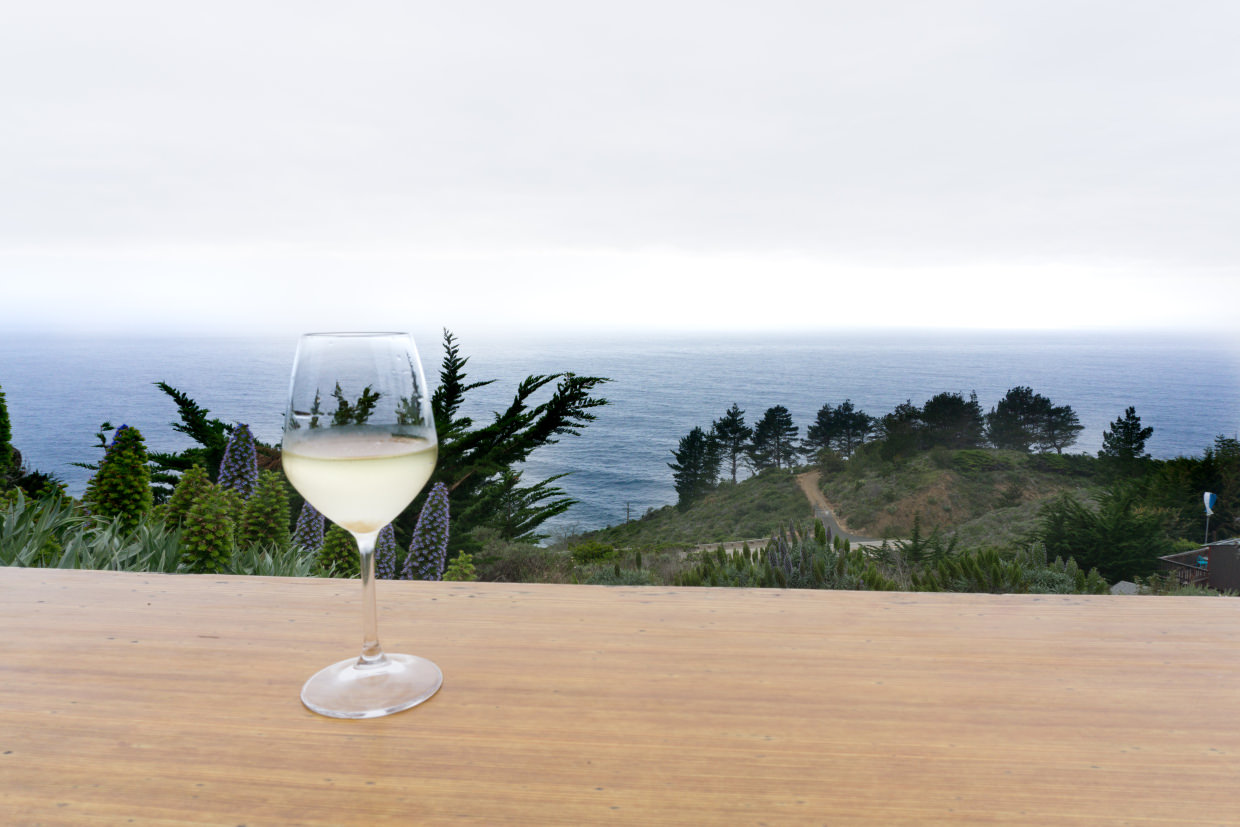 After our two hour sushi dinner, we were ready to pass out hit the hot tub and watch a glorious Big Sur sunset. I am so glad we prioritized sunset watching on our first evening, because we never saw the sun again on our trip.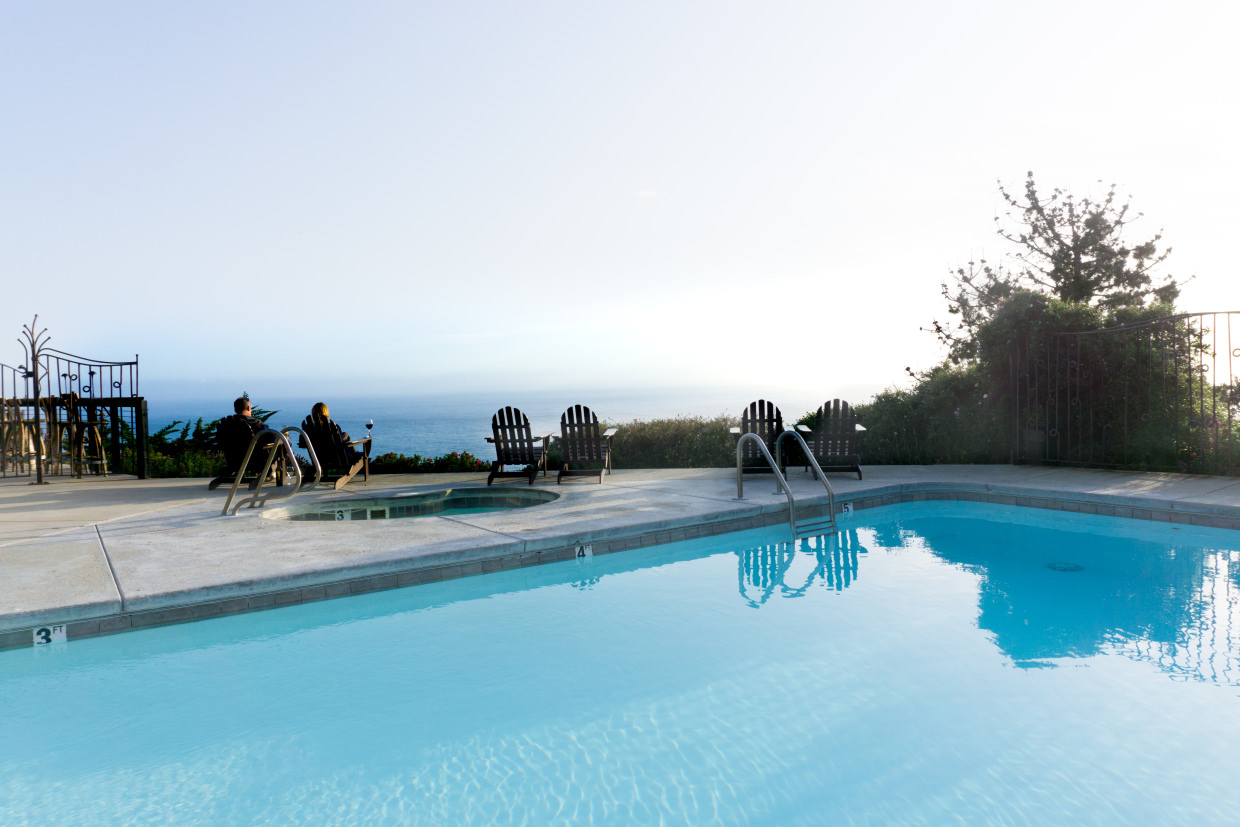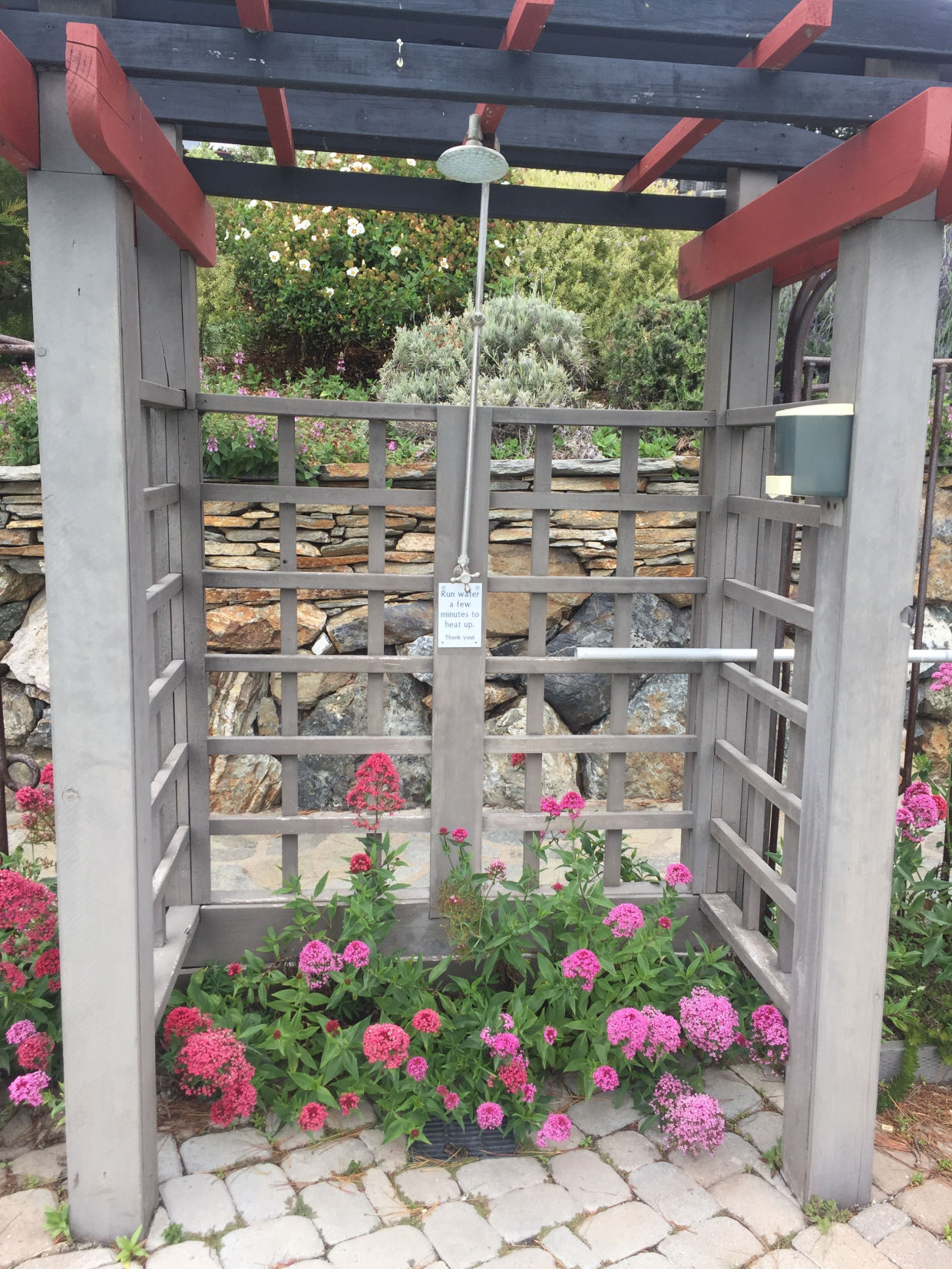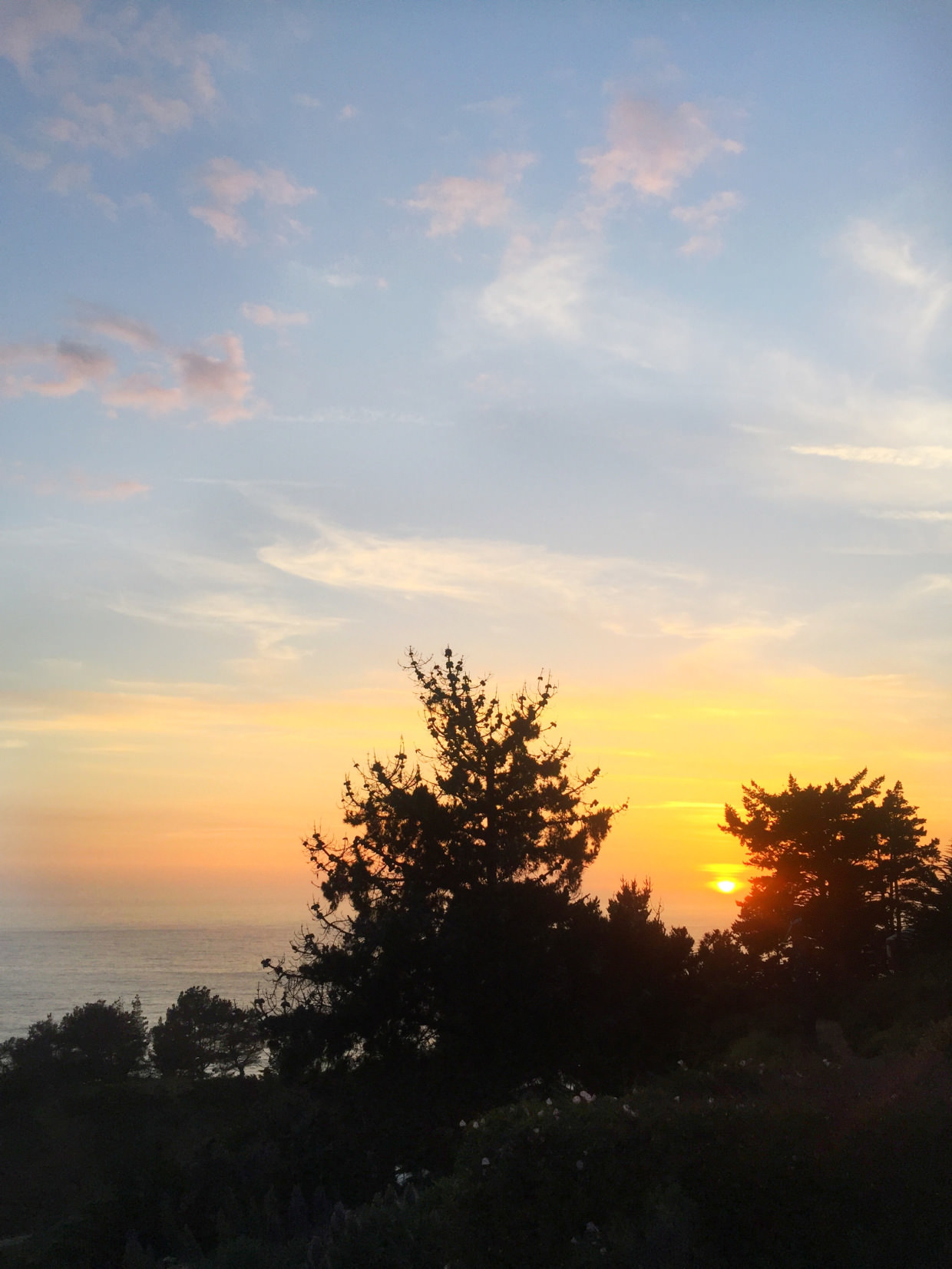 The next day we had planned a few hikes, and one of my favorite activities – a picnic lunch! We decided to head to Limekiln State Park earlier in the morning, since the marine layer on the ocean doesn't dry off until after noon. Limekiln Park does offer hikes with ocean vistas, but we chose to explore the giant redwoods and a lovely, bubbly waterfall. As a bonus, we also got to see the historic lime kilns, which are no longer used, but surprisingly intact! We absolutely adored Limekiln Park. For one thing, we were the only ones there, so we could really feel peaceful and connected to the red giants. Who knows how many people have walked in their shadows through the ages? For another, the hike to the waterfall was one of the most fun hikes I've ever been on! Skipping over rocks, climbing fallen trees, jumping across creeks – and then rewarded with the sweetest, gushing fall. I did not fall in even once, but Andrew, who was leading the way did slip and submerge his legs in the water. He then acknowledged the value of always carrying an extra pair of socks in his backpack. Did I mention that the wife is always right? Anyway, I'll write a full blog post on hikes at Limekiln Park, but for now, here are some pictures!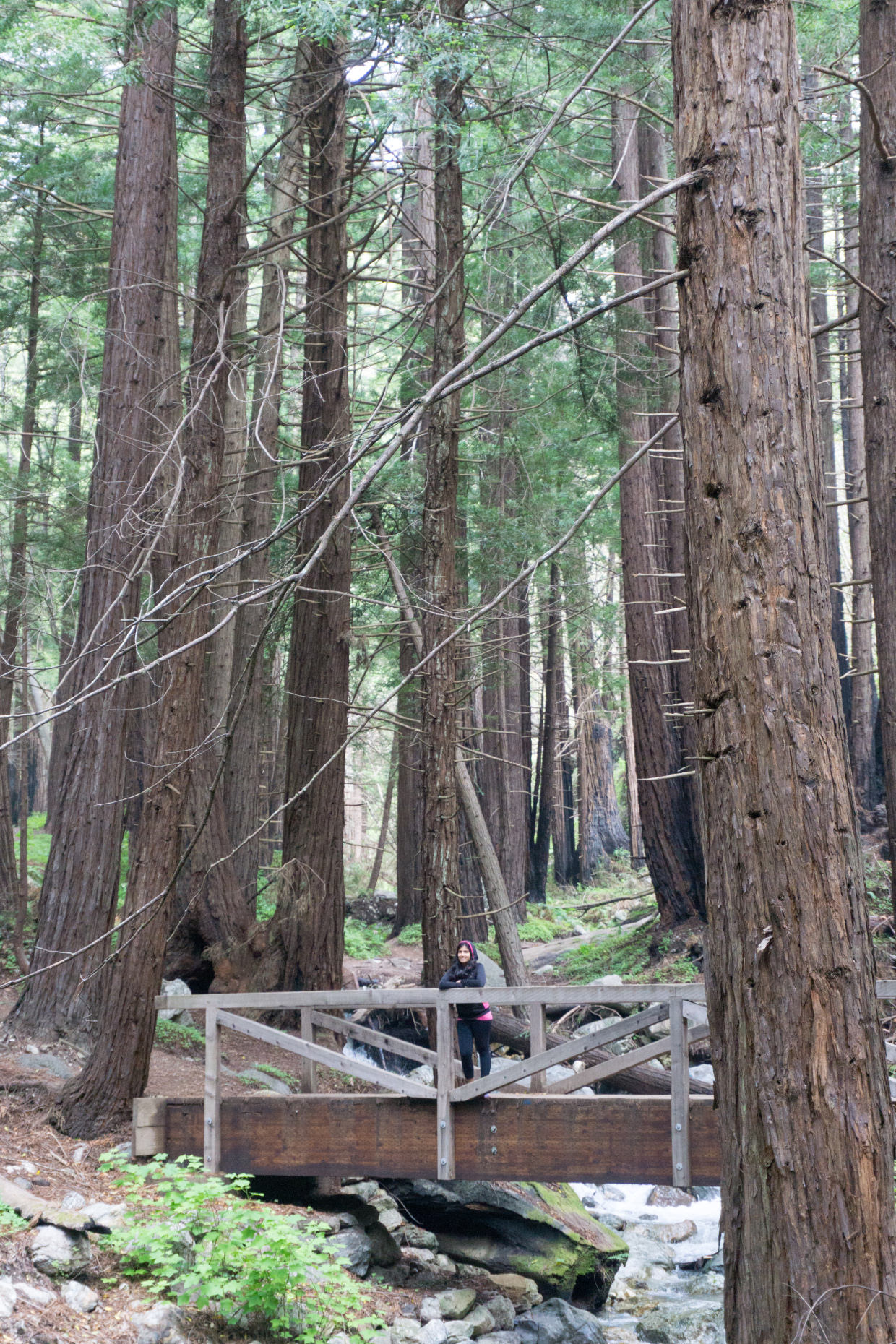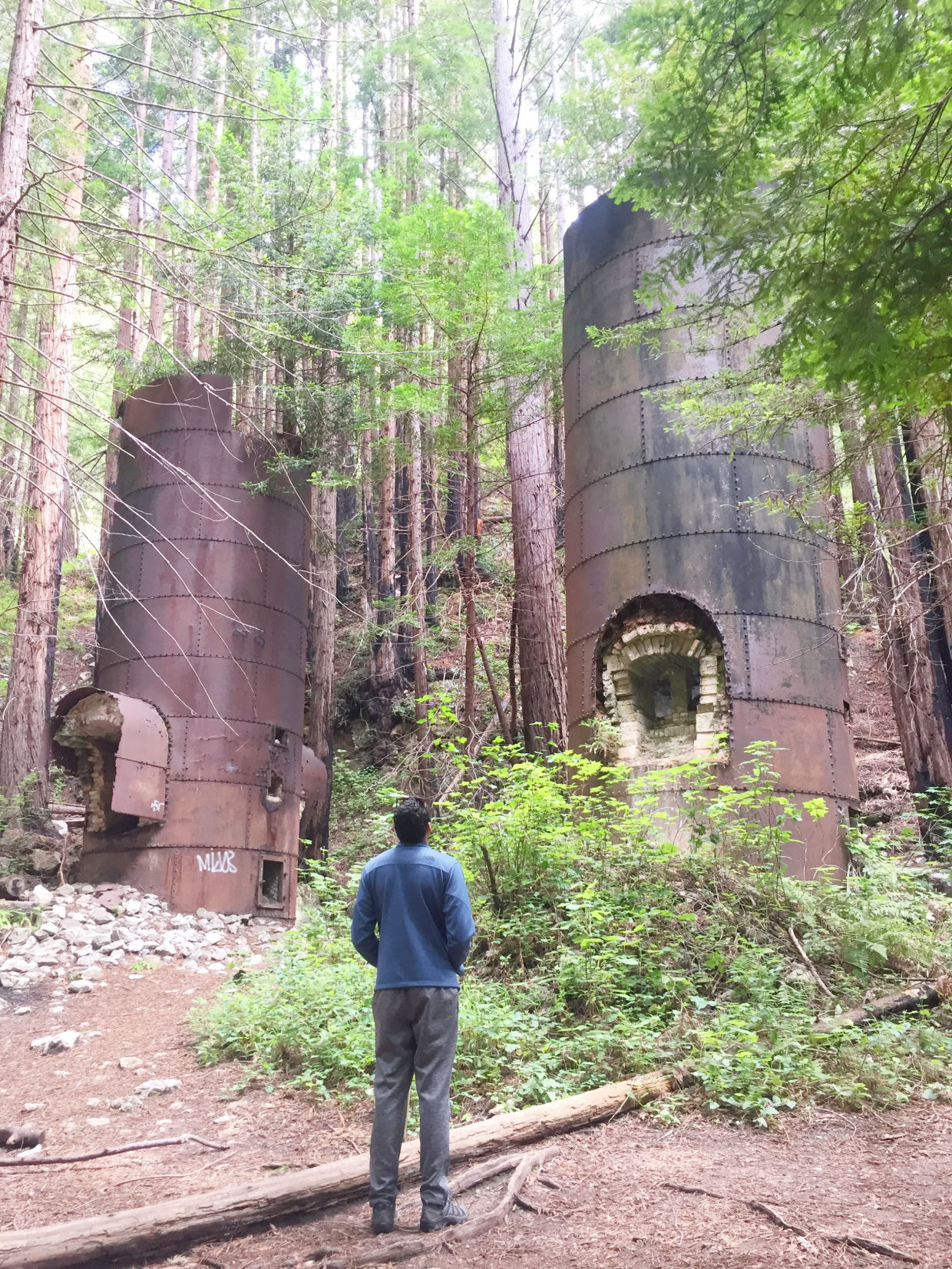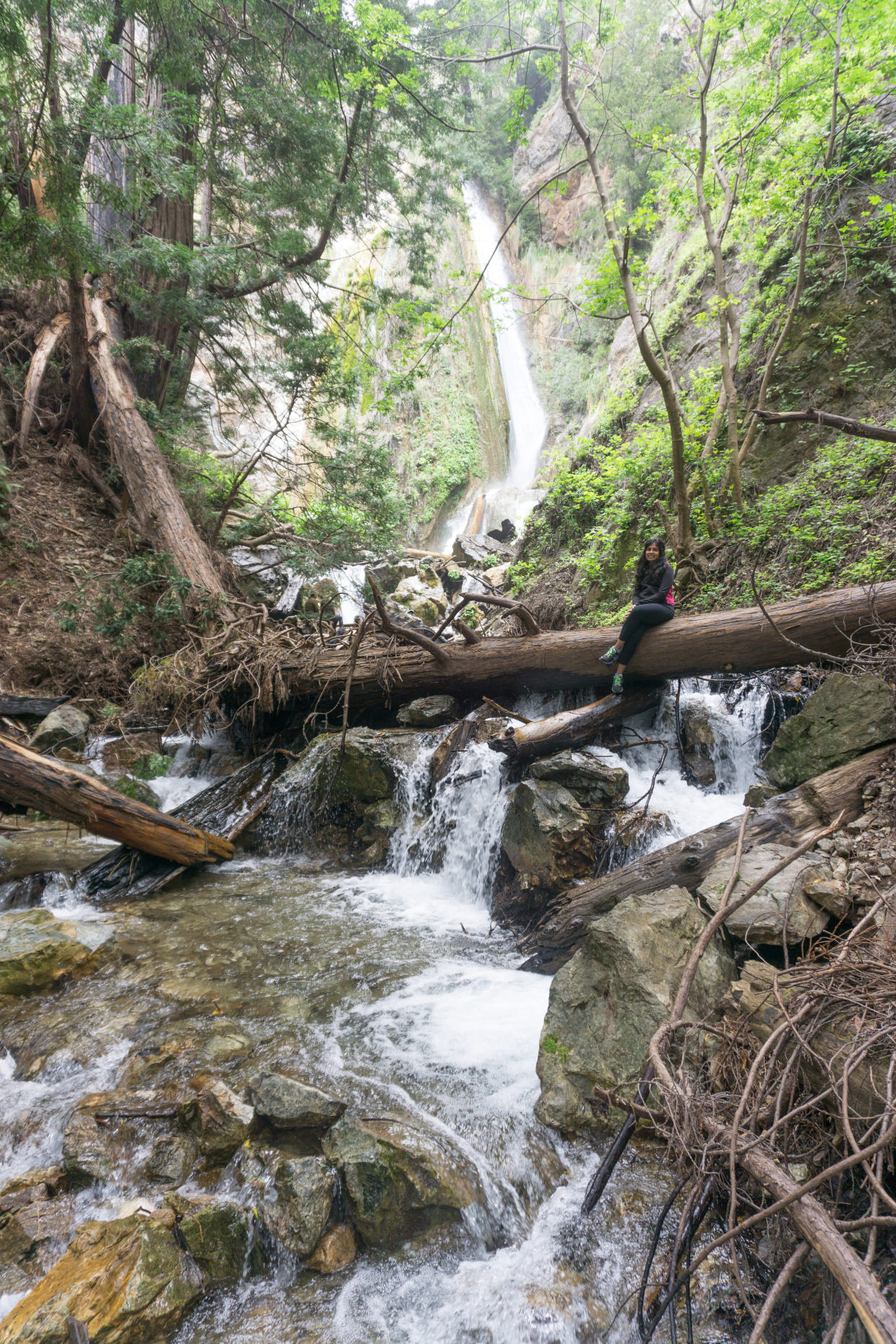 We definitely earned our lunch after our hikes, so we headed to Sand Dollar Beach to picnic. The marine layer did not burn away as promised, but the beach and park was – you guessed it – empty! Except for us, and a few timid bunnies! We hit the beach at high tide, so could not picnic on the sand, but found this lovely grassy area that had 360 views of ocean and mountains, and the promise of an occasional bunny sighting. Treebones has a packed lunch service, with sandwiches, chips and a soda, and I have to admit, it hit the spot. I would highly recommend loading up on fruits and snacks before you set up for Big Sur, because there is no accessible grocery store at the moment.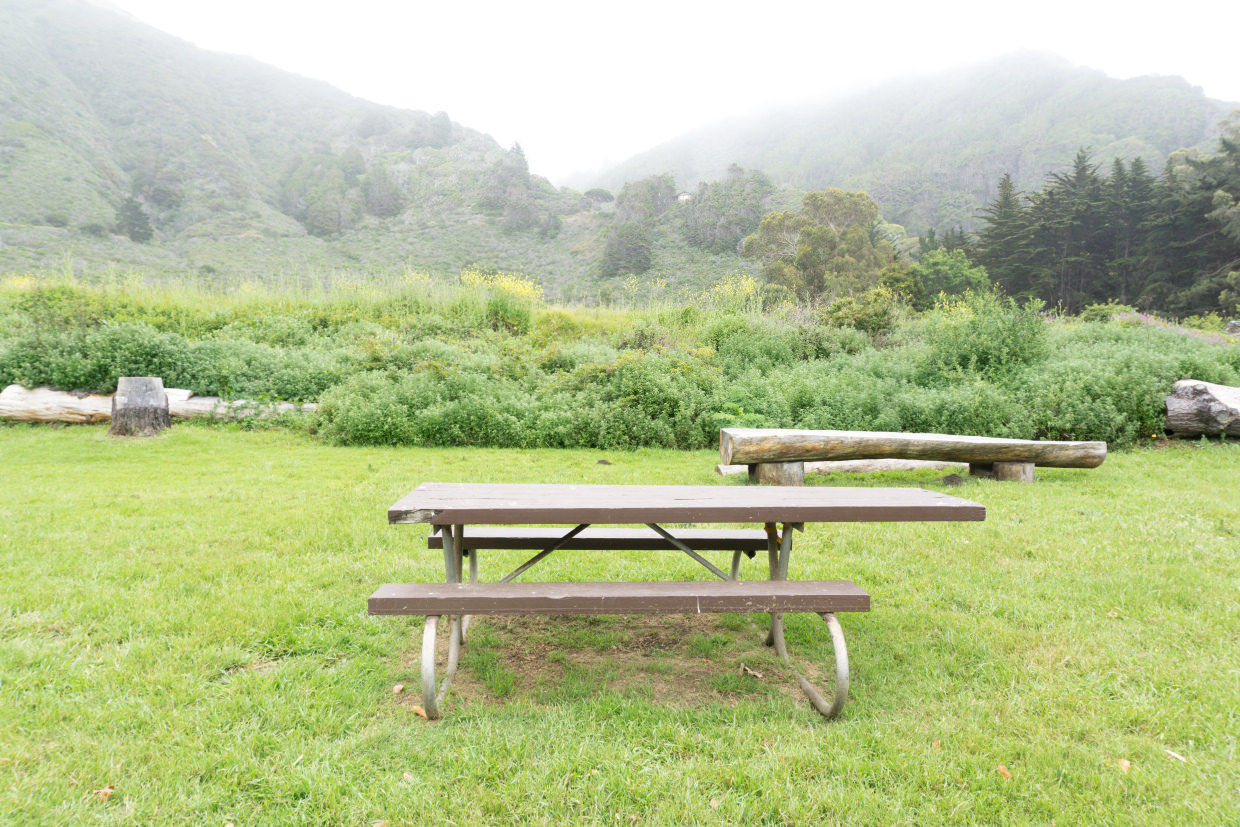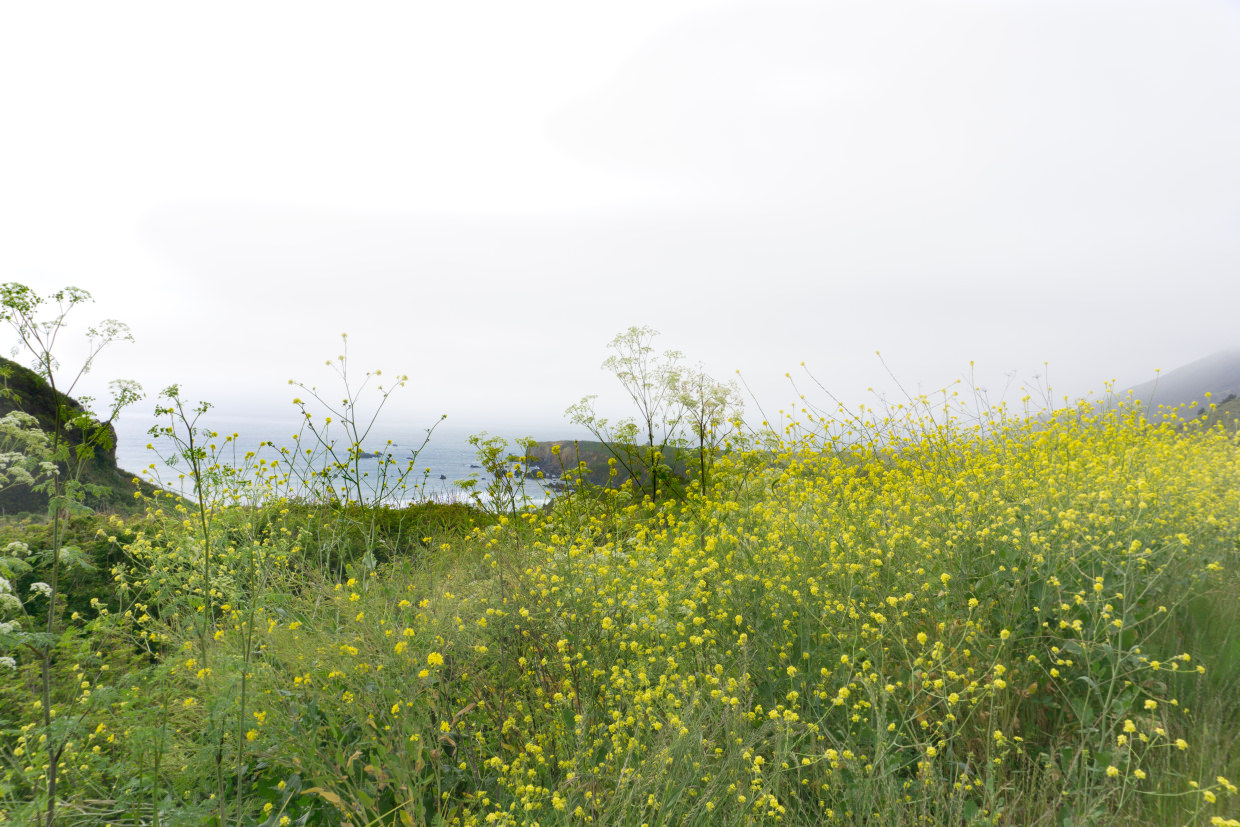 We headed back to rest and recharge at the Kodama Zome. What is a Kodama Zome? For me it was simply a comfortable space to relax with a book and rock myself to a lovely nap (unfortunately, I got very sunburned during it, but that is my own fault). I was planning to re-read 'The Hobbit' (picked up a lovely, illustrated hard cover at Chaucer's Books in Santa Barbara), but the Kodama Zome rocked me to sleep within minutes.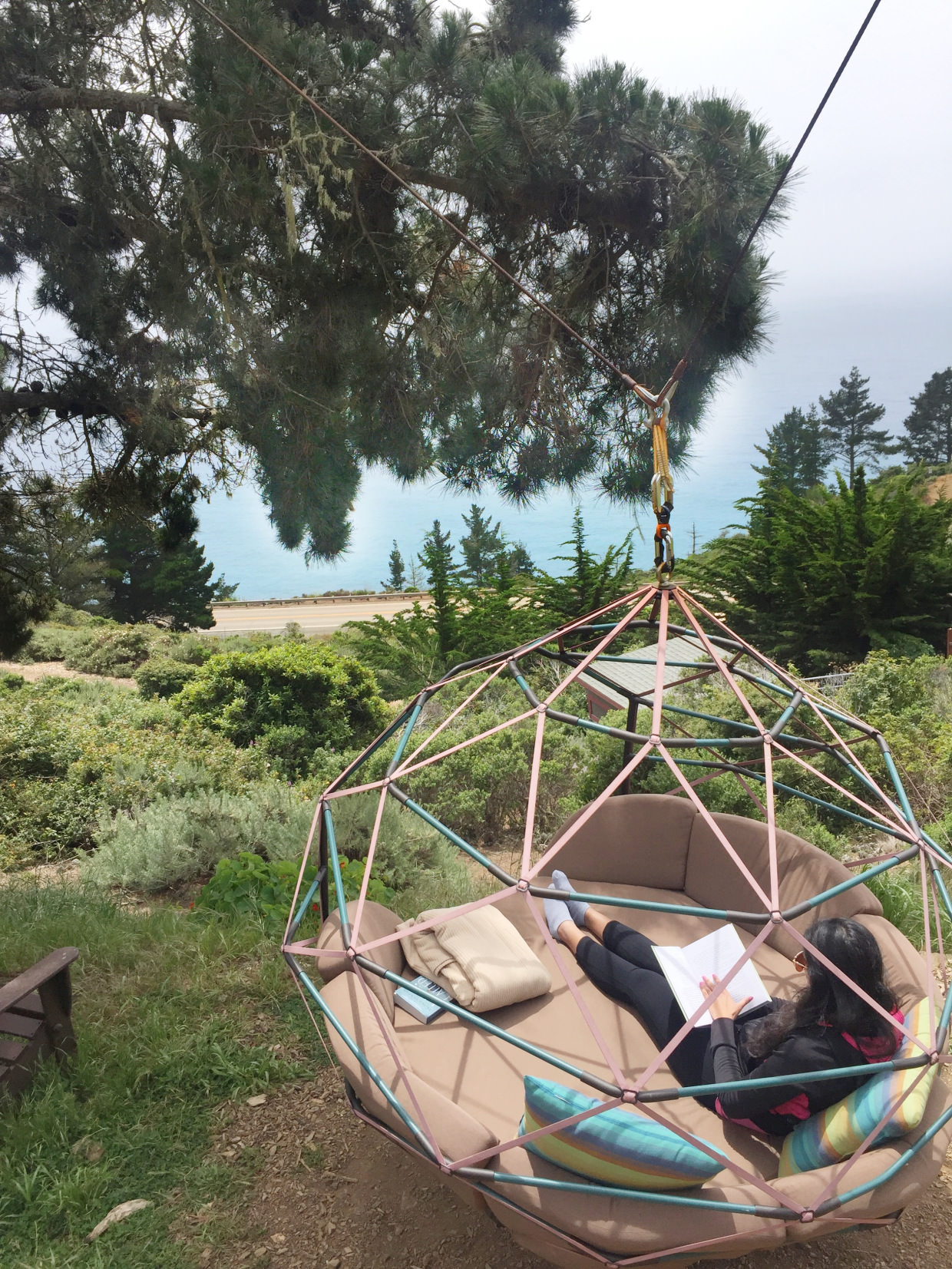 After our long nap, we went back to Sand Dollar Beach, hoping the marine layer would have lifted (no luck), and spent some time exploring the area. It's so different from Southern California beaches! Also, I loved how you have to go down 99 steps to get there. I got 99 problems but a beach ain't one!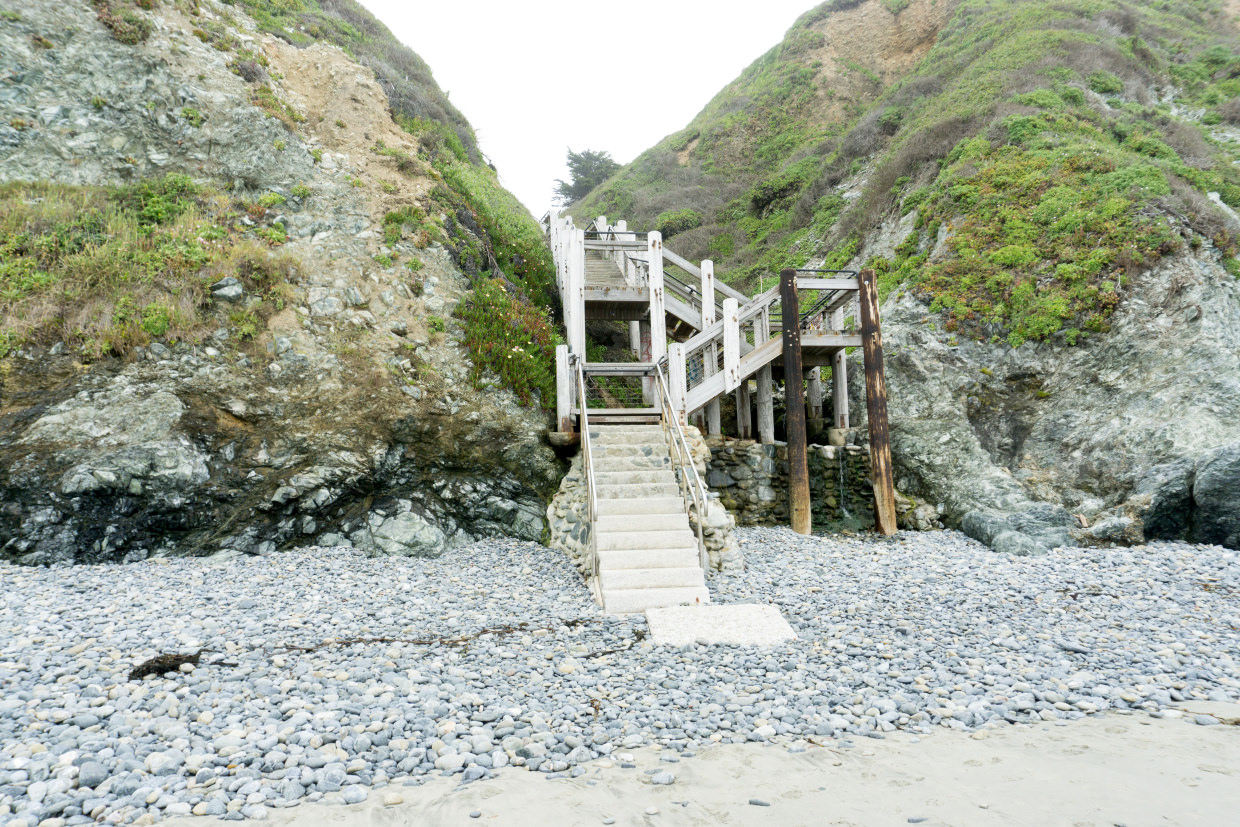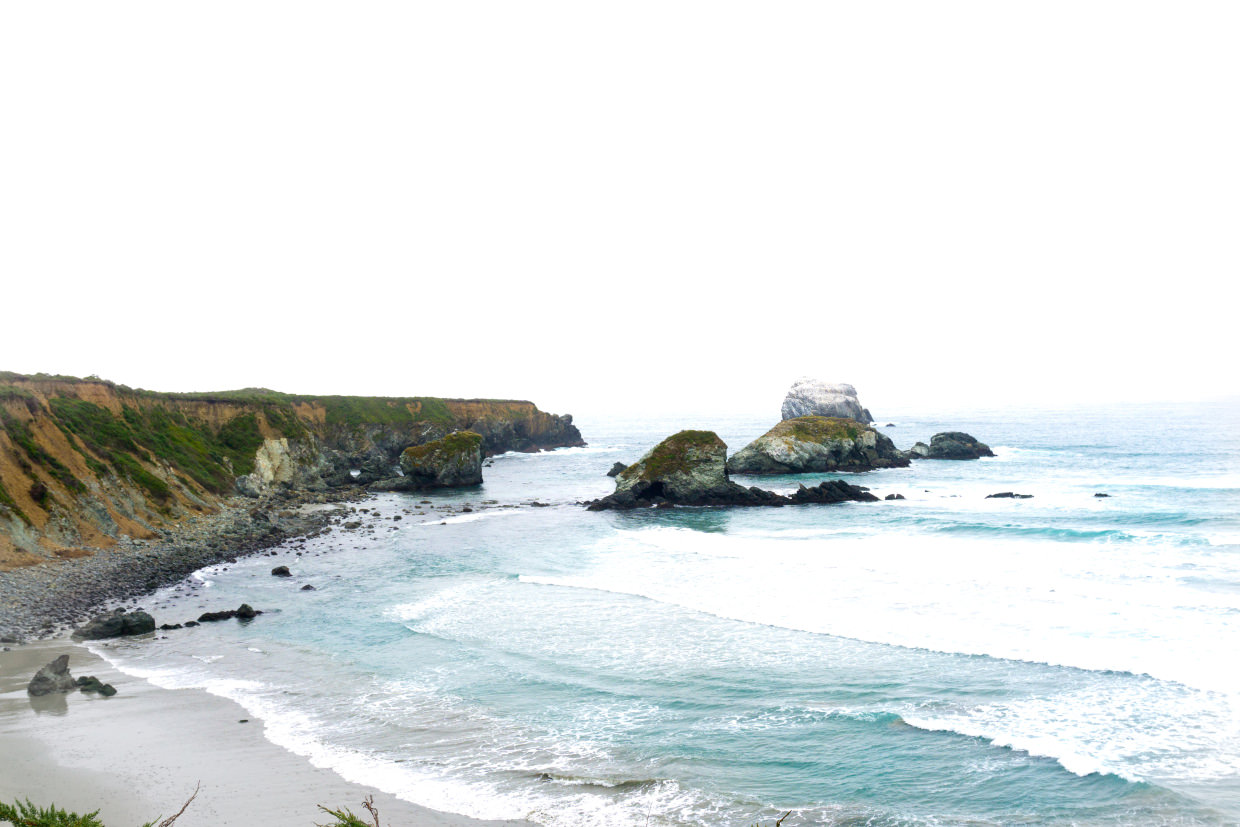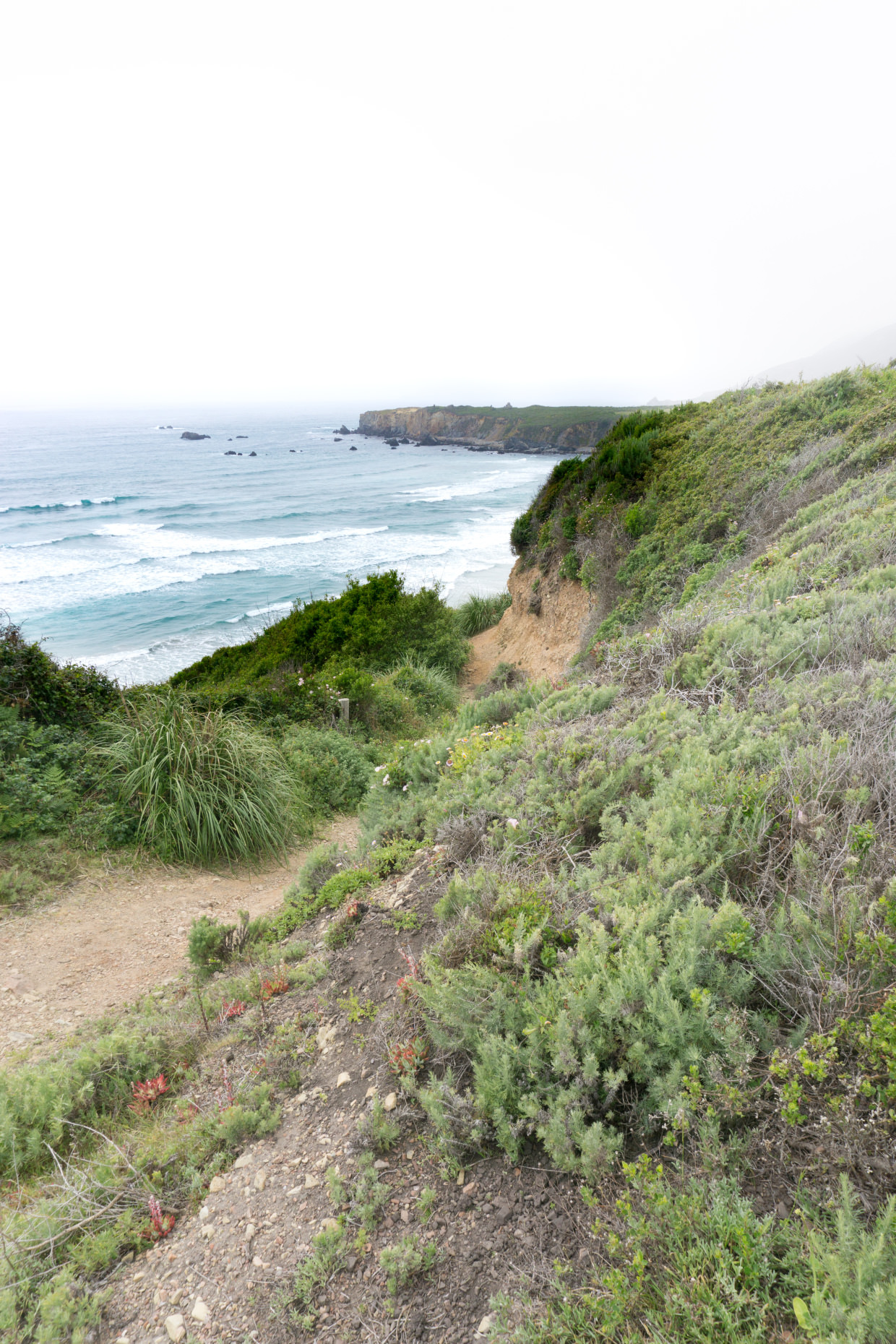 We also spent some time exploring Treebones. They have so many fun, quirky things there! If yurts are not really your style, there is a beautiful treehouse accessible by a wobbly suspension bridge, which is not on the website, so call to book it. I wish we had known about the Treehouse earlier!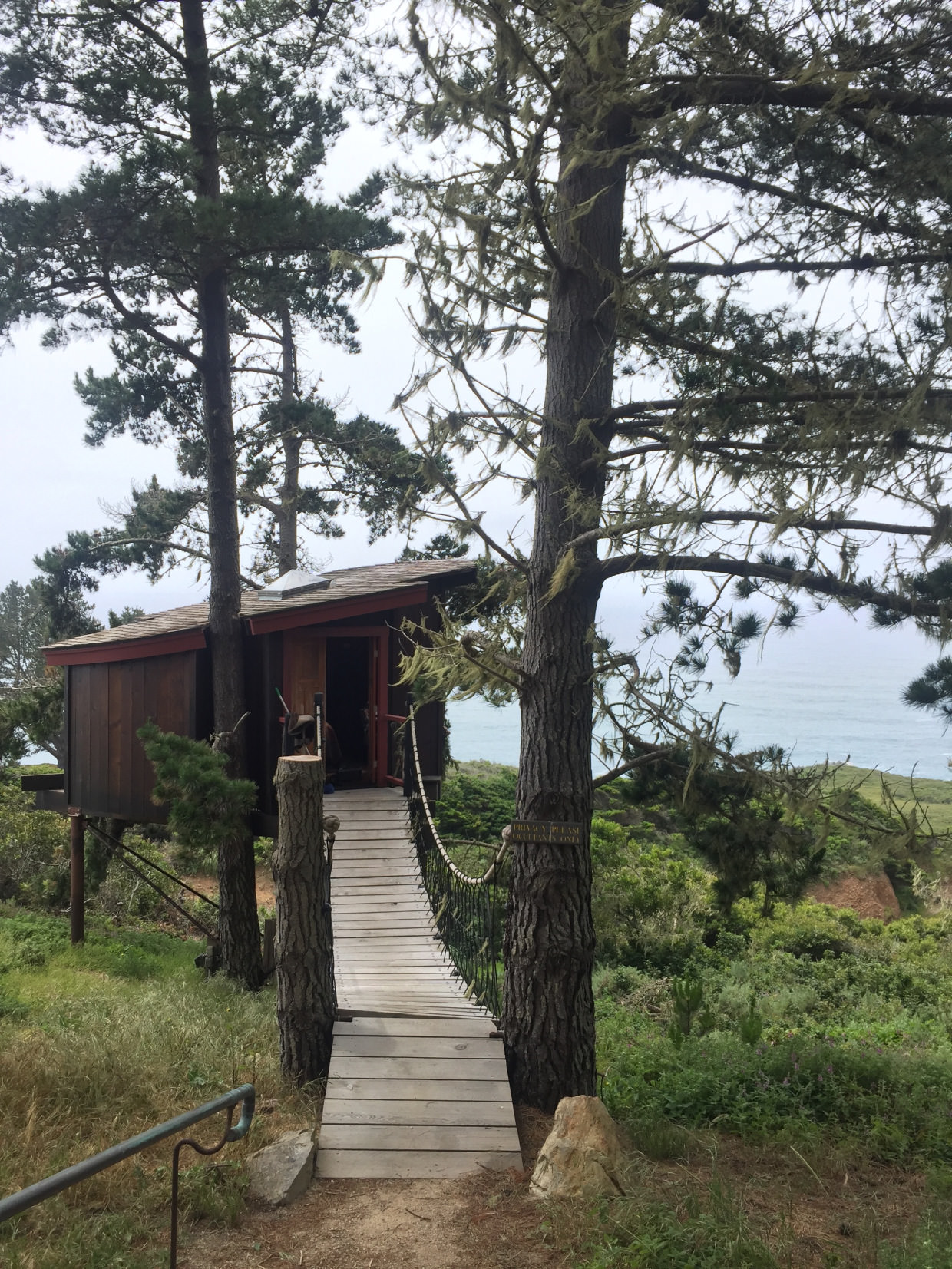 They also have a human nest – which is exactly as pictured below – a giant nest for humans! You can stay here too, if you fear neither winds nor raccoons. The view is worthy of any mild discomfort you might face sharing a bed with the furry creatures.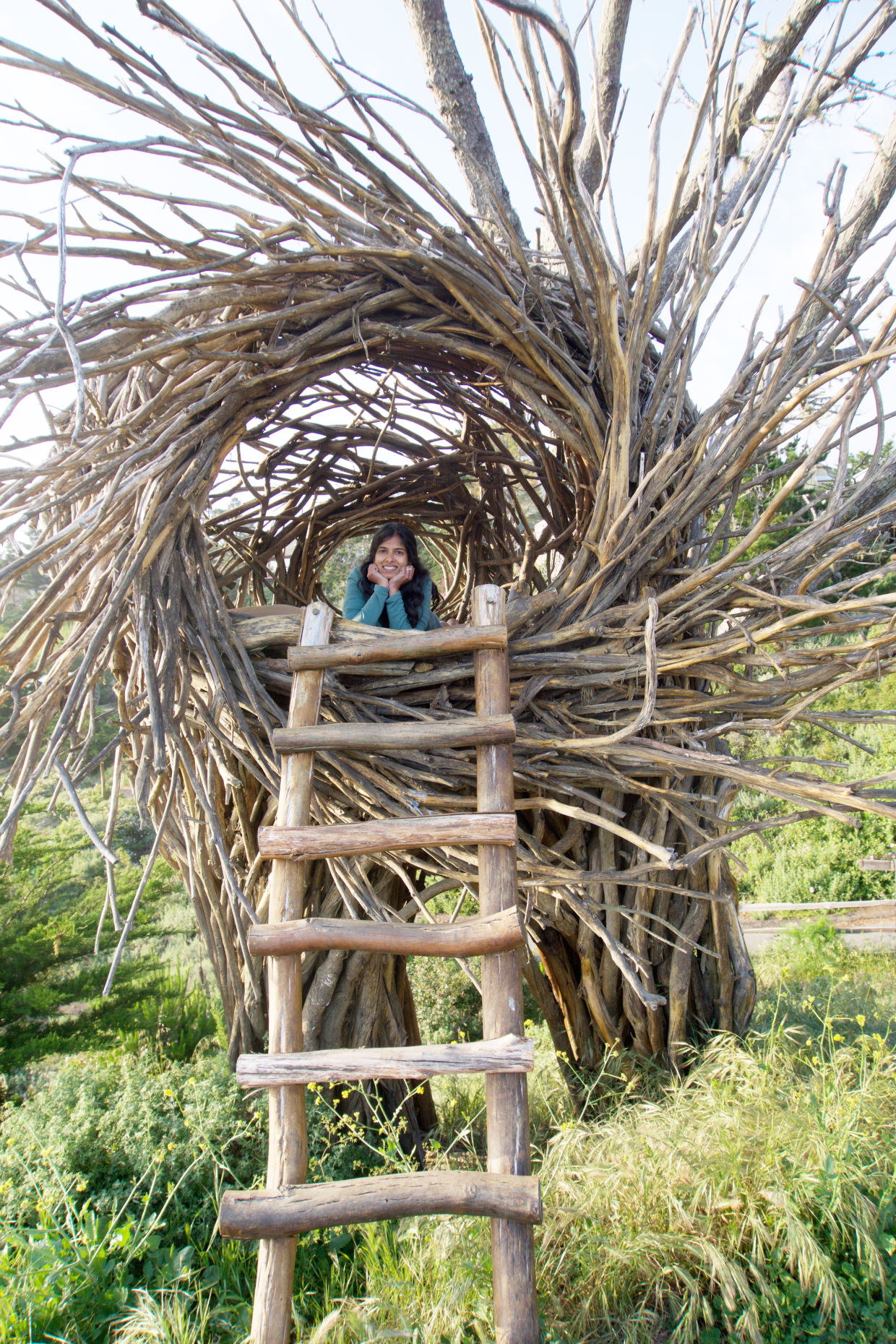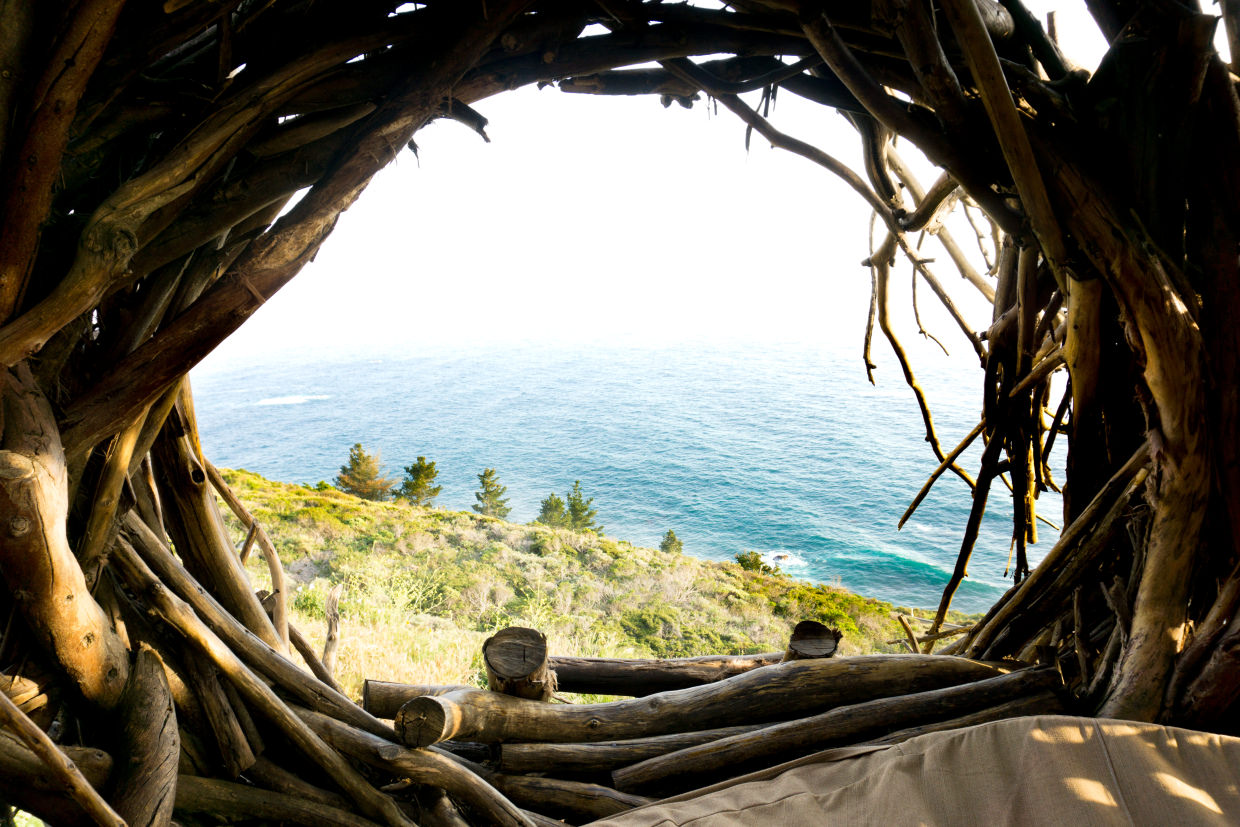 A shoutout to the autonomous tent, nestled by itself on the cliffs, with it's own attached bath. Obviously, it is very expensive and I'm sure you get just as good an experience in a yurt!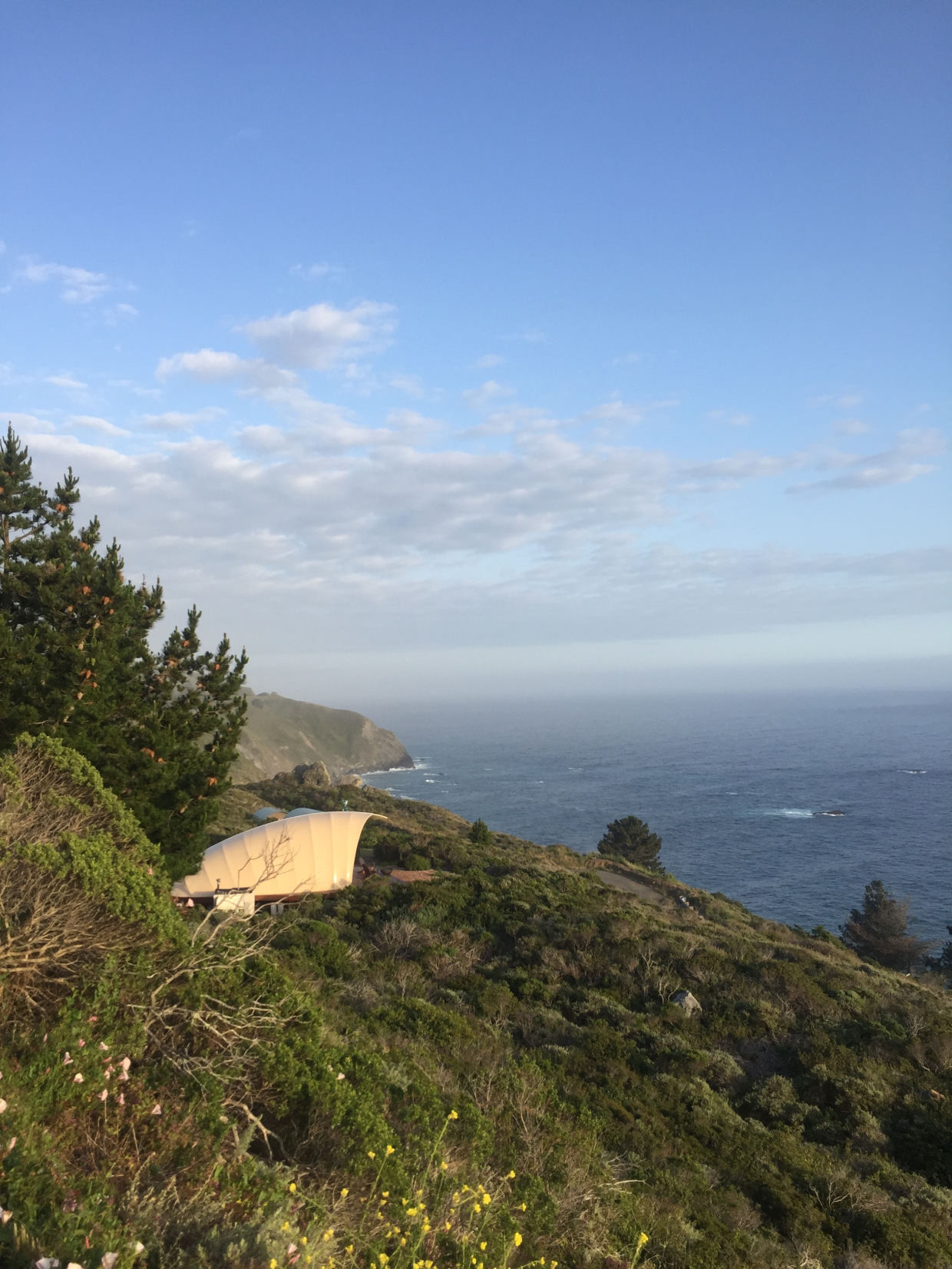 After reading this, wouldn't you agree that Big Sur might be one of the dreamiest places on Earth? I mean…it has blue water and pink hills!
Sadly for us, all good trips must come to an end, and we had our real life waiting in San Diego. After two amazing days, we drove out in the foggy morning, with our bellies full of breakfast, and our hearts heavy. I left a little piece of mine in Big Sur, and I'm sure it is somewhere in the cliffs listening to the songs of the birds and the ocean, waiting for the rest of me to return.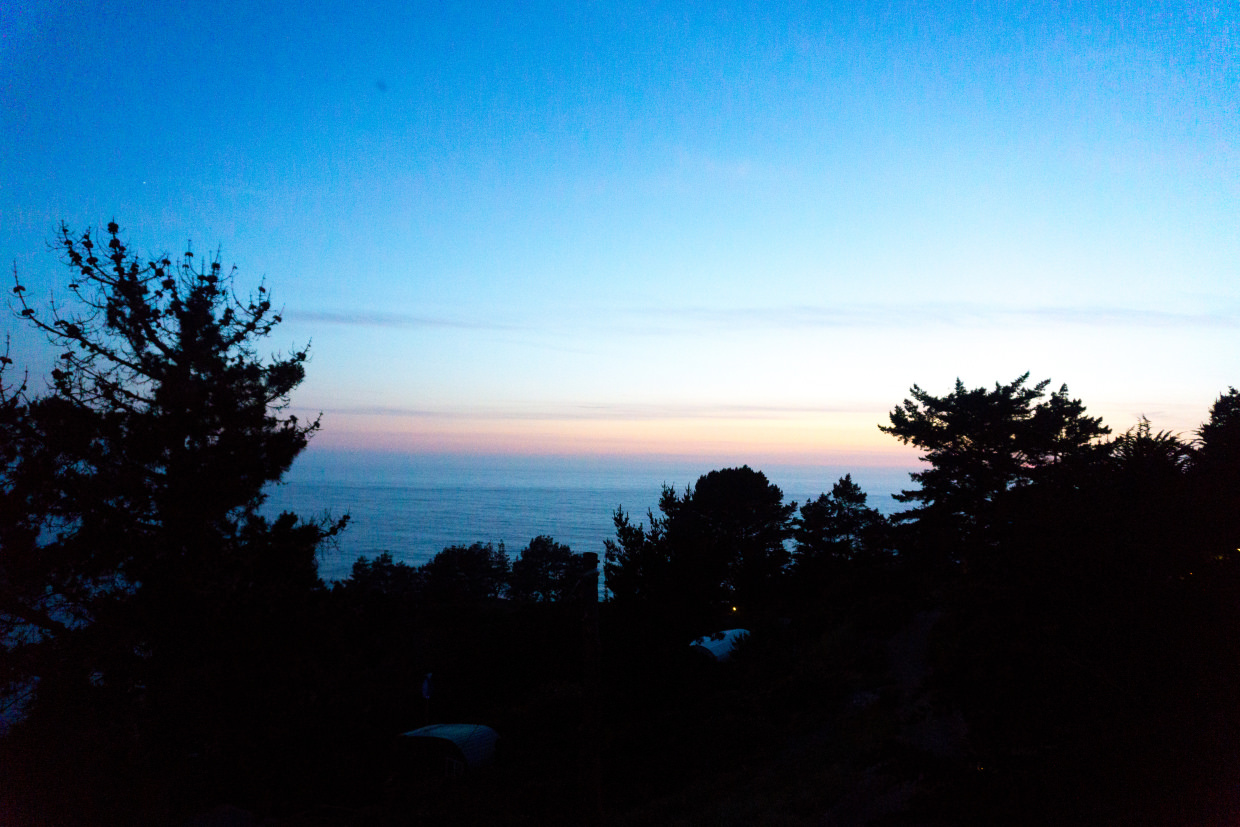 ---
My husband and I had the most amazing time at Treebones. We were in The Spirit Nest for two nights and it was such a unique and adventurous experience. The weather was just perfect for us. The food is like farm to table and is absolutely wonderful. The sushi was phenomenal. Chef Yancy, we loved the whole experience at your table. John Handy, the owner, and his staff were all hands on making sure everyone and everything was just perfect for all the guests. Great people and you can tell they love what they do. And lastly Dave, our shuttle driver topped off a wonderful vacation. With the HWY 1 closure, Treebones got special permission from Cal trans to have guests shuttled in. No inconvenience to us! It was a fun experience, and with Dave as our driver, we learned a lot about the history of the coast, and had some laughs and great conversation. Thank you everyone at Treebones for sharing your home with us. We had such a wonderful and memorable time. March 2017
"Good people, great place" Feb 2014, Tennessee
"…simply beautiful. A real untold haven. Thank you for the experience!" April 2014, England
"I have stayed in places all over the world but as i approach age 60 this will standout as the most ideal place. To say we loved our stay is an understatement. Kudos to the owners and the way your hard working staff seems to quietly handle and share responsibilities. What you have created here is a dream we will remember for a long time. Thanks!" -The Kringdons  
"Stargazing to the sounds of surf & sea lion cries. Treebones is etched in our souls." -Crystal & April
"What a beautiful and enchanting hideaway! I have been lucky enough to see Treebones in the glorious sunshine for a short while but the fog makes no difference to the beauty and warmth of this place and its people ." -Teresa
"The California yurt-womb;protects us; from the wind of worry; from the mundane. We feel the surrounding peace; with every flower; Every bird song; Every surf sound. We float off the water; hovering like fog; suspended by our craving; to crawl into a simple life. We shed a layer of heaviness; and shrug into a coat; of calming warmth. " – Susan & Ed
"Thanks for having the vision to create this tranquil, beautiful spot & for sharing it with many others."  – Molly 
"We had a fabulous time and were really impressed with everything — from the staff to the lodge, the food to the furniture, to the ambiance and the attention to detail." – Renee & Ted
"What a lovely place! Clean, whimsical and just beautiful — your staff is wonderful and helpful." – Kim 
"Amazing culture you have established here. Welcoming & inviting, plus a feeling of not harming the Earth." – Anonymous
Excerpt from National Geographic Traveler 2009 April: "Sense of Place. The hotels on our 2009 International Stay List don't just reflect their surroundings-they help define them. What they all have in common is a transcendent vision that goes beyond traditional hotel-keeping. This mindset is what gives these hotels their special sense of place. Make no mistake: You'll sense the vibe at one. Maybe it's the regional architecture that speaks to you. Or a guest room resonating with history. Or local food that not only tastes great but tells a story to boot. After your stay, you'll leave with the kind of insight only soulful places can provide. To find these hotels, Traveler tapped into the collected experiences of veteran journalists, inveterate road warriors and local experts. They based their nominations of key criteria. Is the hotel engaged with the local community? Does it subscribe to sustainable practices that respect the region? Does it truly capture the spirit of its setting? Further research and detailed questionnaires whittled hundreds of submission down to this sweet list of 129 hotels. There's something for everyone here, from wilderness cabins to urban lairs of luxury- all authentic, purposeful places to enhance your travels." 2009 NGT Stay List
"Up till now most of the million dollar views in Big Sur have been reserved for folks worth millions." – Peggy Nauts San Francisco Magazine
"It's my new favorite place on the Central Coast." – Craig Nakano, the LA Times
"Here for our 10 year Anniversary, this was a highlight on our coastal trip! What a unique and incredible experience in nature – we feel so fortunate to find this and plan to return with our family." Thank you again, Lisa & Richie Tannenbaum
"So relaxing and the food was so fresh. I loved it here!" Flora (Brooklyn, NY)
"The 16 yurts perched along the ridge above Highway 1 embody the natural beauty and off-the-grid living that has long characterized Big Sur." – Bonnie Tsui, the New York Times
"Words are lacking, this place engages all your senses!" Novena (Bakersfield, CA)
"Our last vacation before baby makes three. We are so happy we stayed for a night. The dinner, the scenery, the people…all beautiful. We loved your organic garden and are inspired to get ours back on track!" Cheers, Ryan & Julia Young (Orlando, FL)
"Just a quick note to thank everyone for a really magical four days in yurt 13. It was the high point of our 40th Wedding Anniversary trip and we have told all our friends about you. Thanks so much, John & Michele, (Warwick, UK )
"You have created a sustainable paradise here on the California coast." Many thanks & Blessings, April & Michael (Arcata, CA)