Wild Coast Restaurant & Sushi Bar
Reservations taken up to 7 days in advance or at time of check-in. 805 927 2390
NIGHTLY SEATINGS in the restaurant 5 – 8:30PM
LUNCH 12 – 2PM daily
SUSHI BAR 4:30PM – 8PM (OPEN March 2 – Nov 26, 2017)
Closed Monday/Tuesday nights & Thanksgiving & Christmas Days.
---
We harvest a large portion of the salad greens and vegetables right from our own garden. Restaurant compost is also enjoyed by the two dozen chickens. Guests enjoy the farm fresh chicken eggs baked into desserts and other entrees.
---

Chef Serge is originally from Monaco where he attended Culinary School in Nice, France.
He worked in several hotels and restaurants on the French Riviera and Israel and then later, after immigrating to the U.S., worked alongside Jacques Gonthier "Premier Ouvrier de France" "France's best Chef of the year" at La Reserve in Scottsdale, AZ. He was later part of the culinary team to open the "Pointe Resort at Tapatio Cliffs" in Phoenix.
Drawing from experience at the Scandia Restaurant in Beverly Hills, Cano's Restaurant in Newport Beach and several restaurants in the San Francisco area such as Julius's Castle, Nick's Lighthouse, and the "Family Club and Family Farm" south of San Francisco he honed his skills and passion.
When he was Executive Chef at the Gold Hill Hotel in Nevada City he had a chance meeting with John Handy, owner of Treebones. The two kept in touch for several years and after meeting Corinne, the family, and the rest of the Treebones community – it became apparent that Serge was meant to be the Chef of the WILD COAST restaurant. Welcome Serge! His cuisine is tantalizing,  his passion – infectious, his goal – to satisfy. We hope you have the opportunity to meet him during your stay with us.

---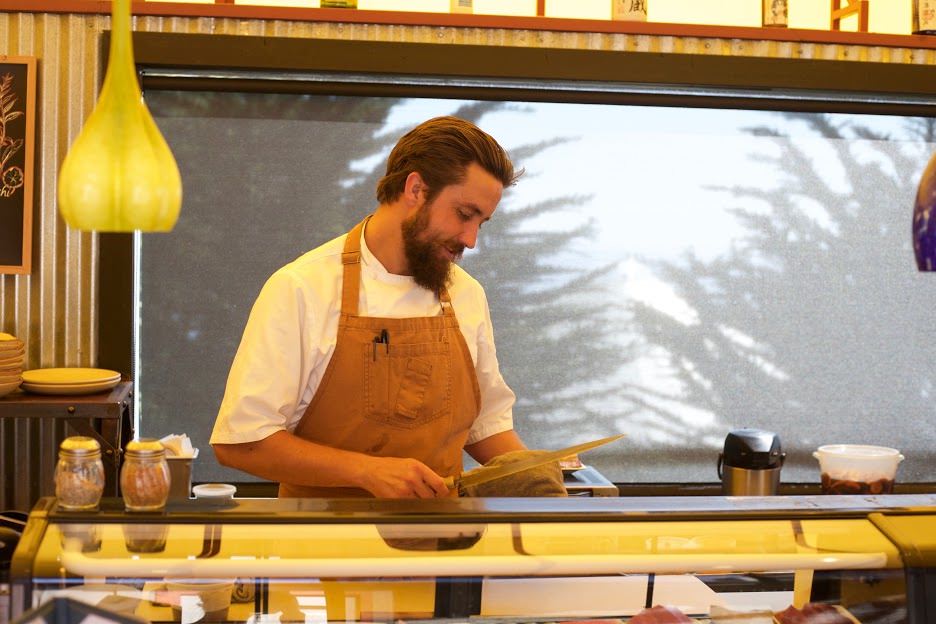 Wild Coast Sushi Bar offers ingredients procured with intention and personal passion. Sushi Chef Yancy Knapp creates unusual and tantalizing sushi using responsibly sourced fish and seafood paired with organically grown vegetables and herbs from Treebones garden. He blends amazing technique with simple, delicious flavors into a seasonally inspired menu.  His delicate and delightful sauces are hand crafted – sushi is presented with 'just the right sauce' all ready to be enjoyed! If you are up for a true Wild Coast adventure – allow Yancy to produce your sushi Omakase style: Chef's choice…you will not be disappointed in the experience he creates!
Yancy Knapp grew up in San Diego CA. and started in restaurants while still in high school. He draws from past experience working at  Land & Water Co and The Seabasstropub and brings a 'world influence' from  stages in Spain and Denmark during his most recent travels abroad.
It is our hope that you will delight in the cuisine and the natural surroundings as much as we do!

---