Thinking globally, eating locally. Offering fresh and organic farm-to-table dinners using recipes from around the world creatively crafted with locally grown ingredients.
NIGHTLY SEATINGS in the restaurant 6PM – 8:30PM
LUNCH 12 – 2PM daily
SUSHI BAR 5:30PM – 8:30PM (Open 6 nights per week. Closed Thanksgiving & Christmas Day, Jan & Feb)
Call front desk (805) 927-2390 for reservations or dining information.
---
LUNCH MENU | DINNER MENU | SUSHI MENU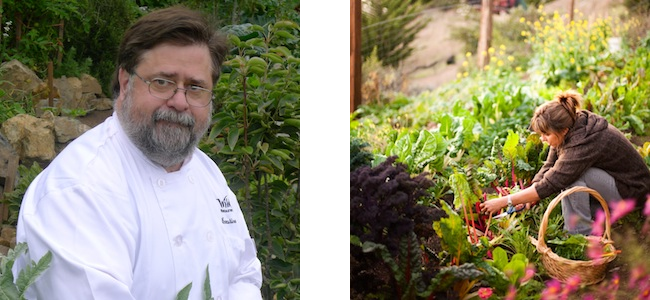 We harvest a large portion of the salad greens and vegetables right from our own garden. Restaurant compost is also enjoyed by the two dozen chickens. Guests enjoy the farm fresh chicken eggs baked into desserts and other entrees.
Chef Tim Hrusa brings his expertise and inspiration from the culinary world to our Wild Coast Restaurant. Each deliciously prepared dish boasts fresh local flavor with ingredients grown & harvested from our own organic garden, sometimes just hours before appearing on your plate.
Come and Enjoy!
---
Quote from Chef Tim Hrusa regarding life in Big Sur:
"I have been cooking on the Monterey Peninsula for nearly 40 years…including 12 years for the Beach and Tennis Club at Pebble Beach. Big Sur has been a destination for my wife and I, separately since we were children and together since we were married in Big Sur 30 years ago. The chance to live and work together now on the Big Sur coast is an honor and a privilege.
It is not only about how my food tastes, but how it is remembered…i want what our guests eat here to remain in their memories alongside the waves, the cliffs, the trees…to be recalled together as a united experience."
---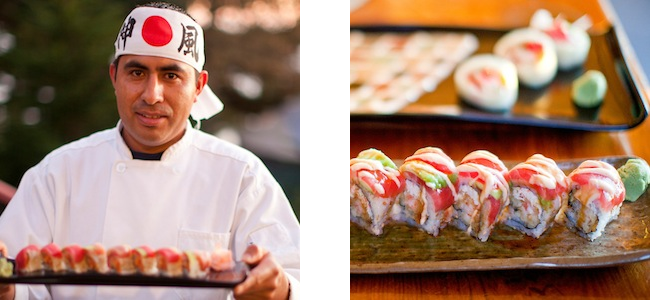 Sushi Chef Carlos-san is preparing fresh, innovative sushi at the outdoor sushi bar. You get an  unobstructed ocean view, a rare opportunity for sunset dining to die for! Need we mention it is the only sushi bar for sixty miles? If you can't get a yurt for an overnight stay, please stop in for dinner!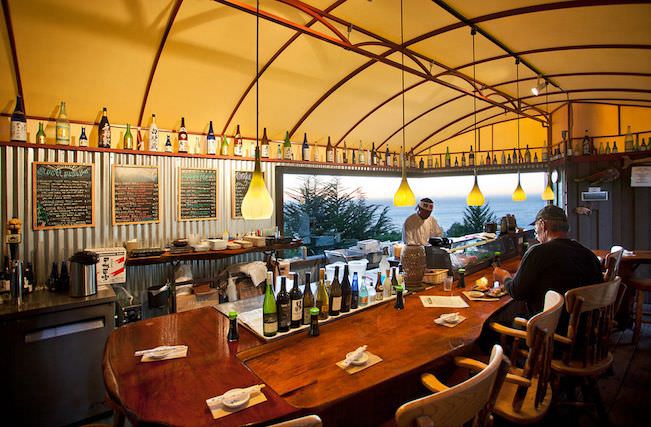 (The ocean-view sushi bar)