Wild Coast Restaurant & Sushi Bar
Thinking globally, eating locally. Offering fresh and organic farm-to-table dinners using recipes from around the world creatively crafted with locally grown ingredients.
NIGHTLY SEATINGS in the restaurant 6PM – 8:30PM
LUNCH 12 – 2PM daily
SUSHI BAR 5:30PM – 8:30PM
(Open 6 nights per week. Closed Thanksgiving & Christmas Day, Jan & Feb)
Call front desk (805) 927-2390 for reservations or dining information.
---
We harvest a large portion of the salad greens and vegetables right from our own garden. Restaurant compost is also enjoyed by the two dozen chickens. Guests enjoy the farm fresh chicken eggs baked into desserts and other entrees.

Kasia is our Head Chef in the Wild Coast main dining room. She is a culinary school graduate from Le Cordon Bleu in Pasadena, CA,. "When I was a little girl  at first I didn't speak much English and so I would sit alone in the house and watch the cooking shows for hours..I think that is where my love for cooking and food began"   Kasia earned early notoriety as a four time contender on the Food Network show  " Cupcake Wars" . When she joined Treebones in 2013 we soon learned that her love and skill for 'savory' creations and incorporating our garden fresh ingredients exceeded her past reputation as a cupcake warrior! When she's not buzzing and chatting  around in the kitchen she can also  be found in the garden consulting with our gardener, anxious to harvest the greens that grace her nightly creations.
Come and Enjoy!
---

Our Sushi Chef Sarah is from Pennsylvania and holds a double degree in Restaurant Management and Art & Design. "Making sushi had always been what I would consider to be my dream job… amazingly the opportunity arose in a restaurant in Stroudsburg, PA where I was lucky enough to apprentice with a very Traditional Japanese Sushi Chef – here I found my passion and learned the craft. In 2013, I headed to California for a friend's wedding. During that magical trip I found myself eating sushi in the middle of what seemed like nowhere at Treebones in Big Sur! When I arrived at Treebones I was in awe. I sat eating their sushi on the deck overlooking the ocean, dreaming of the day I could live and work in a place like this. Moments later I was introduced to Michael, one of the owners sons. Did he really just say "We are advertising for a new Sushi Chef? Did I hear that right?…Hi! My name is Sarah. I make sushi. I said with a smile. Three weeks later I drove across the country with as much of my life as I could fit in my car, ready to start a new chapter. Watching the sunset over the ocean as I make delicious, edible art, blending sushi with garden, is a dream come true. I feel so blessed to be here. I am so grateful for this life".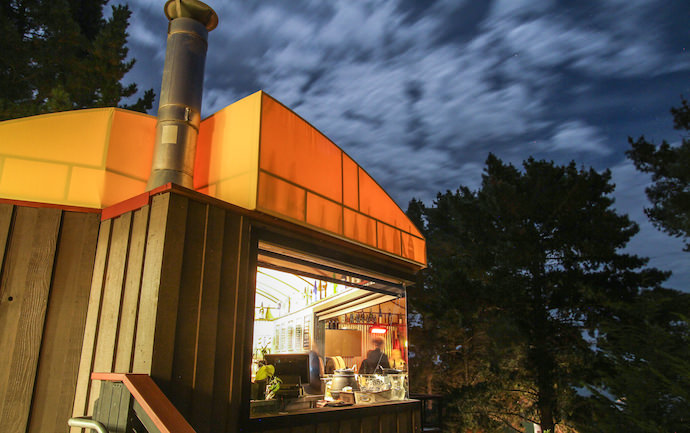 (The ocean-view sushi bar)
Let's go Glamping!
Treebones is a premier Glamping resort. Glamping is defined as a luxury form of camping, blending natural experience of outdoor camping with more glamorous amenities.
Wild Coast Restaurant
Oceanview Sushi Bar
About Us
Yurts & Campsites
Restrooms & showers a short walk away
Heated ocean view pool & hot tub
Gift shop & small convenience store